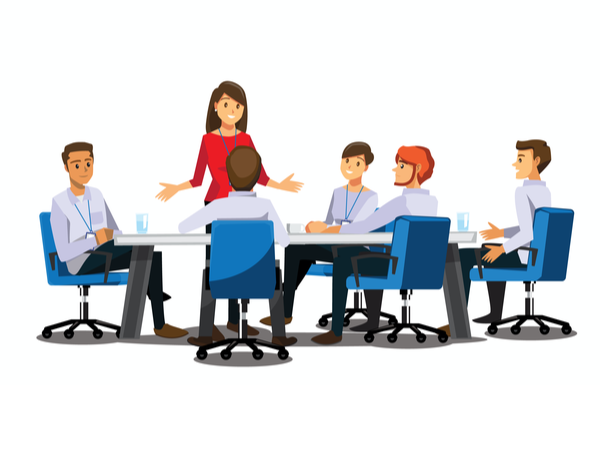 As we described in our recent piece first team meeting agenda, running their first team meeting can be a nerve-wracking experience for many new team leaders. You want to get to know your team while providing a little motivational oomph, but how exactly do you do that?
One way is in the choice of questions that you ask your team during the meeting.
Asking the right questions can make all the difference, setting both you and your team at ease while providing some useful starting points in order to gather information and prompt constructive debate.
In this article, I'd thought I'd delve into what sort of questions you can ask in your team meeting and how you can use the responses.
In this article, we'll cover
Let's first cover what is expected when you obtain the role of a team leader; it has several key purposes:
To give direction
To develop talent
To help clear obstacles
To influence your team to achieve the right outcome
To improve the capability of the team
Get the team to work as a team, not merely a set of individuals
So given that as a remit, you can use that first team meeting to help these targets?
We're not going to go over this too much (as we discussed in the intro, check out our piece on first team meeting agenda to do that), albeit the team meeting should be a place where you:
Set the scene with your team,
Get to know them (and they you)
Review Goals and Objectives
Discuss actions and key status
Review issues that are affecting performance
That part of getting to know each other is key. You cannot lead a team if they have no trust in you. That first meeting is so important in that it helps:
Facilitate communication
Assess the team
Ok, so you have your first team meeting established, you've got your team assembled, and a great agenda, but what do you say? Here are 12 ideas for first-team meeting questions:
1/ Icebreaker question
An Icebreaker question is a question that is designed to do two things
Get people to think
Encourage people to talk
Ice breaker questions can have fun, light-hearted connotations and are intended to generate discussion, let people express themselves in what may otherwise be a potentially stressful situation.
They are also great if you're trying to get to know people better.
They don't have to be based around work, like these examples:
a) What's your favorite superpower and why?
b) How many countries have you traveled to? And which was your favorite?
c) What's the weirdest thing you've ever eaten?
or they could be, such as:
a) What's your favorite piece of technology at work?
b) What do you excel at?
c) What's your favorite training you've done and why?
Be warned; these sorts of questions can put you in the position of looking like your trying too hard; you do want this question to be natural and not appear forced (which might switch your team off)
2/ What holds them back
This question is designed to do things.
Is your team happy to speak out?
What problems exist that need to be fixed
Of course, you want your team to be able to raise issues that are affecting them.
You don't want the team to be quiet and suffer in silence; they need to trust you that when there are problems, you'll help get them resolved.
They also need to feel that they won't be penalized for speaking out.
Showing them that from the off, they can be open about the challenges they face can be important and building a rapport.
3/ What actions are currently open
When you're new to leading a team, it's really important that you get a handle on open tasks.
This question can help appraise you of
What tasks need doing
Are actions captured and tracked
Are there specific priorities
4/ What targets do they have
This question has several benefits
Do they understand, or have an awareness of, their team goals
Do they understand the context of how the team goals fit into the company goals
Do they all share the same view of what they are trying to achieve?
This question can be interesting.
Depending on how well goals are cascaded down within the organization, you might find that other than day-to-day tactical tasks (i.e., my goal is to raise purchase orders), awareness of this one is low.
5/ What is the teams biggest opportunity
This question endeavors to explore change.
This particular question helps you understand whether they see challenges as just that, challenges that have to be lived with, or opportunities for change that can drive improvement.
6/ Who are their stakeholders?
It's important to ascertain which other elements of the business they interact with on a regular basis (and how that interaction goes!). Gathering this information will help you build your stakeholder map, helping you to understand who your internal customers and suppliers are and where the potential problems sit.
It is worth noting that you'll want to corroborate the answers that you get. It would be best if you made sure that the stakeholders that have been highlighted do represent those key to your team.
7/ How do they feel about the team's objectives?
This question aims to tease out thoughts regarding objectives, including:
Are they aware of key objectives?
Are the objectives reasonable (i.e., can they be met?)
What challenges are there in achieving them?
How do they measure progress?
Are they on track to succeeding against them?
When facing this question, I would also tease out information around whether the overall team is fulfilling the objectives or whether elements of the team dominate delivery. If this is the case, why?
8/ What are you looking for in your team leader?
We all enter a leadership role with certain expectations and aspirations, but is this actually fulfilling the requirements of our team? When you boil it down, leadership is really about three things
Setting goals and objectives
Facilitating the team to succeed against these goals and objectives
Developing talent
While, as leaders, we think we're doing a great job, actually asking our team what they want can be really insightful.
Perhaps this will give you a whole different perspective about what you need to do (or how you need to act) to give your team the best chance.
9/ What was the teams biggest win and why
This question aims to tease out what elements made that win happen and how we can repeat them. For example,
Output orientated (i.e., we raised 1000 Purchase orders that week instead of the normal 500),
Values orientated – what we achieved made us feel really good about ourselves and the team because we contributed to the organization's values.
Team brand orientated – i.e., what was achieved helped the organization to understand the value of the team.
10/ How did you feel at work last week, and why?
The final question aims to get an understanding of the team's mental state, are they stressed, upset, happy, excited? What are the key drivers behind that?
This can be somewhat of a difficult question; it's important to remember that while there is a 'team persona' to this, there are also individuals to consider, and not everyone may feel the same (or will be willing to speak up). Try and show empathy and your soft skills to read the team and their reaction to this question.
Bear in mind that elements raised here that may need addressing, i.e., "I felt lousy because I ended up working 7, 12 hour days last week and I didn't see my family", will need following up. Also, bear in mind that not everyone may be willing to share how they actually feel in a team setting.
11/ What can we do differently next week?
I really like this question as it prompts immediate thoughts around continuous improvement. What change can be implemented that can have the biggest impact.
Another reason I like this question is that you're guaranteed to have both common themes (i.e., "improve our computer system") and individual ideas. This can be another great icebreaker question and prompt some great debate within the team.
12/ Do you have everything you need to do your job effectively.
Companies can be notorious for ill equipping teams to succeed against their objectives. But how do you know what is actually needed? Well, for starters you can ask them!.
Of course, you may not be able to deliver against all of the wants (so don't over-commit) but do listen. Perhaps there are some quick wins here from issues like "how do we avoid interruption from other departments" to "clean and correct data to work with."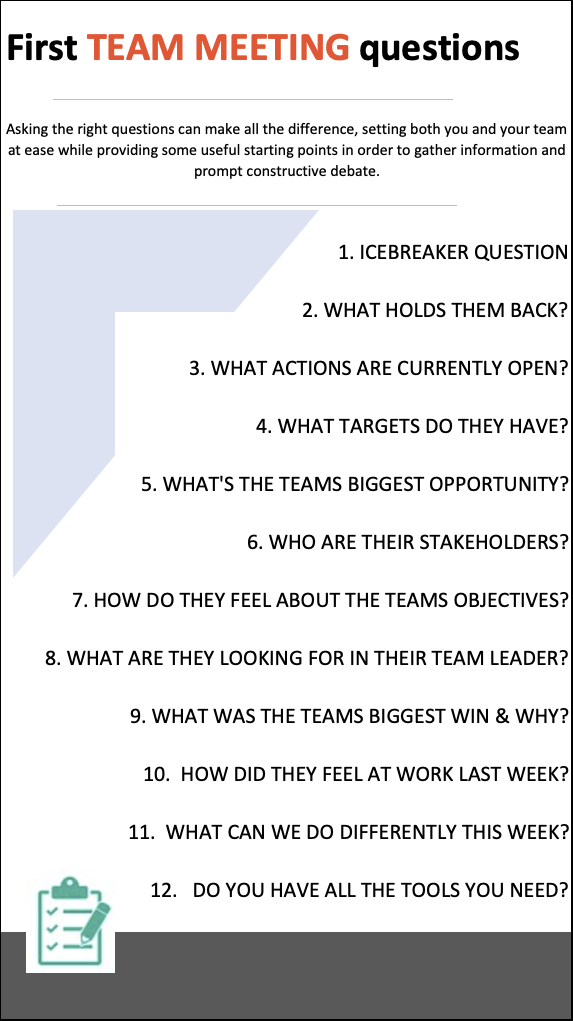 I hope you like the questions we posed, and hopefully, you'll be able to use some of them with your own teams. But what happens if, even with a great set of questions, your team dries up, and getting feedback proves difficult.
The key point here is not to lose heart.
Stay patient, try and understand why communication might be difficult,
Perhaps they are uncertain that providing feedback will be positive
They have yet to build trust in you
They think providing feedback will be negative and may not be in their best interest
They don't want to upset other team members with what they really think.
Remember that these questions are team-based, so try and encourage team feedback and not to let individuals dominate.
Where you are faced with a dominant voice within the team, try and use encouragement to get others to participate.
You can use various techniques to do this, perhaps ask a question – get everyone to write down their answers anonymously and then get other team members to read them out.
Remember to keep things light and fun and work hard at breaking down barriers that might exist.
The worst thing you can do with this feedback is nothing. Consider the following:
Remember to take notes. Don't rely on memory – you will forget things
Capture an actions list that you can share with the team
Prioritize the actions (what's important, what quick wins are there?)
Separately capture your thoughts regarding team members

Are there areas for an individual follow-up?
Are there training & Development opportunities

Book a follow up to discuss the feedback received and what the teams next steps are
Remember that you're not going to change things overnight, and improvements may be gradual, but once the team sees you taking an interest and delivering against some of the things discussed, you will increase your team spirit and build trust.
Summary
Team meetings don't need to be daunting.
With some preparation, they can really help you understand the strengths & weaknesses within the team members and the policies and processes they rely on.
Communication is key to making this happen, regular communication with follow-up where challenges and issues are addressed.
What are your thoughts on team meetings? Are there any questions you think we missed? Any you disagreed with? As ever, we'd love your feedback.
You can reach us on Twitter @sanbustrain
Or you can use the comments section below.
This article is part of our Management & Leadership guide.