So you want to work in change management?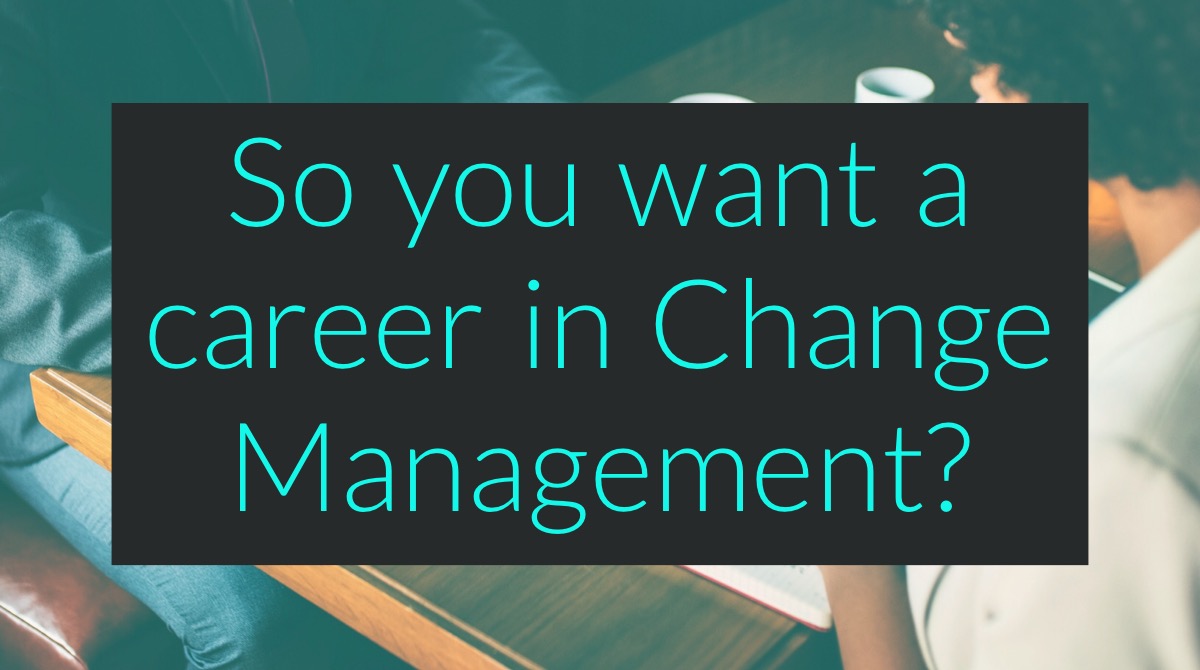 Change management roles can offer a great opportunity to both learn and deploy a vast array of business improvement tools and learn at a strategic level how businesses function and perform.
I've come across many colleagues who are looking to break into the world of change management, and when they discuss it with me I usually encourage them, not only is it a sought-after skill but once you've gained a little experience, there is usually a clear career path with plenty of opportunity for advancement.
Why change management?
Change management, I think, is about encouraging and facilitating a business community (be they senior managers or lower level worker bees), leading them through the change process taking them between two specific points (past to future) whilst upskilling the business in terms of tools and techniques.
The key for anyone working in change, it's vital that they provide value, whether in the skills and the tools they can apply or the knowledge of how to smooth the journey.
Whilst there is usually a focus on the tools and techniques, valuable change management personnel also understand the importance of interpersonal skills. Change can attract criticism from those who resent (or are afraid of change) and being able to both interface with and influence people of all viewpoints is a key enabler.
Over at businessinsider they have a great piece on change and it's importance within an organization, you can read the post here (this will open in a new tab).
Different levels of change management
When people think of change management as a career all too often they think of the end game, that flash consultant who works with leadership, and whilst there is a market for these, there is also a requirement for people at all levels whether that those managing change projects to those teaching change/improvement skills.
Don't believe me? Google change management and not only will you be inundated by either leading consultancy firms or a myriad of certification courses.
So what is change management, what roles exist and what are the career prospects?
Ok, let's dive in.
What is change management
Change management is about doing things differently, it usually follows a number of steps
* Review areas for change (often driven by an issue)
* Formulate a plan (this might mean a project or simply deploying some improvement tools)
* Deploy the plan
* Monitor/measure
As I stated in the introduction change management can be multi-faceted. It can mean both large and small scale change (strategy or process).
Large-scale change programs often involve strategy & organizational design and often focus around a particular element of the business life-cycle (i.e. product introduction or process failure).
Usually, there is a driver for change, for example;
* Falling revenues/increasing costs
* Change in leadership
* Innovation within the marketplace
* Increasing competitiveness within the marketplace
* Poor performance
Large-scale change can often follow a standard process (such as one for organizational redesign) or it can look to take the views of individuals within the organization around a particular issue, gain consensus of what needs to be done and formulate an action plan and timeline.
Some organizations might require some level of change management to capitalize on innovation within a company, taking that bright idea that someone has and formulating a strategy to get the most out of it, Incorporating this innovation into the product or process set.
Incorporating innovation is where things often get challenging.
This is especially true where process issues exist and improvements are required to be designed and integrated into the core business, monitoring and "tweaking" the process design until it's optimized.
This can be especially challenging where processes are long established and/or people are long established.
Finally, change is usually a never-ending cycle. Most businesses continually review performance through metrics and market reviews and will look to deploy some improvement projects on a continuing basis.
What Change Management job roles are there?
The goods news is that there are many roles in the field of change management.
Many roles might focus on a particular industry or function, for example, the specialism might be in supply chain, software or Customer Support.
This is quite common as organizations look to choose change managers that can hit the ground running with the key skills required for their change programme.

Typically, there are 3 main change management careers.
1/ Instruction on change management tools and practices
2/ The application of change management in a project
3/ Advanced change management at a strategic level
Example change management roles
Below are 5 examples of change management roles in what could be considered a typical change management career path.
Change analyst – this role normally co-ordinates or assists with change management activities, often providing insight around impact assessments and analysis. They often co-ordinate change program functions such as issue and risk capture and some level of resource coordination. Analysts will typically have some functional experience and be aware of the steps required within the change process.
Change Agent – A change agent will usually have a variety of skills/qualification in practices such as Lean and six sigma. They will usually be responsible for both the identification of process opportunities and the management of workstreams within an improvement project. Typically they will also look to champion learning/training within an organization to imbed skills such as 5S, Kaizen, Lean.
Continuous Improvement Manager (CIM) – This role will typically have governance over lower level change agent/analyst resources within the team and find themselves responsible for identifying and championing improvement opportunities. A CIM is likely to have experience and qualifications in skills such as Lean and six sigma as well as people management and project management experience (management, objective setting etc).
Change/Project Manager – a change/project manager will usually be responsible for managing multiple change projects within an organization. They will have a typical project management skill set whilst also having detailed working knowledge of improvement practices and lifecycle. They will often be responsible for a team and be expected to excel at interpersonal skills working cross-functionally with different functional areas often with direct exposure to customers.
Consultant – A consultant usually has a high level of experience and qualifications around change. They will typically work for many clients at once interacting at a senior management level. Consultants will typically identify areas requiring change within a company (be that organizational or business system related). Whilst many consultants may merely develop the strategy it is also common for consultants to manage the implementation of these changes, typically working with the clients existing change managers and teams. Many consultants work for consulting companies that have their own unique deployment method and tools.
What skills do I need for a career in change management
There can be a seemingly vast set of skills required, from "hard" technical based skills to "soft" interpersonal skills. An ideal candidate, as discussed above, might have niche/functional knowledge i.e. supply chain.
Most companies will have their own "blueprint" of what makes a great change agent/manager and many companies have their own unique skill set requirement.
Luckily there are many excellent training courses available either classroom-based or online that can offer you the skills that are required.
Knowledge of Tools/techniques
People skills – many people with great ideas just need to be listened to. Empathy can be a key skill.
Leadership skills – change requires a mantra and for people to follow it.
A focus on the customer
Facilitation skills
Training
Designing experiments
Clearly, understanding the business is crucial. How it operates and drives revenue (and avoids costs) however people skills shouldn't be overlooked.
In significant transformations of big businesses, change managers/agents/ or consultants often direct their focus on strategic goals and the tactical plans required to deliver them.
But to succeed, change requires people. The human side of change management should be overlooked at leaderships peril.
Company culture, the people, and the organization's values can have a huge bearing on the ability for change management to succeed. The pre-requisite for people skills shouldn't be overlooked.
What are my career prospects like in change management
The career trajectory for someone looking for a career in change management remains a healthy one.
A quick look at total jobs over here in the UK showed me that there were around 1,330 change manager type jobs being advertised in London alone (now some of these maybe duplicates run by different recruitment agencies), nevertheless the market, currently, is a healthy one.

Most organizations, large or small recognize the need for innovation and improvement and while many organizations look to develop this skill from within for those that can develop experience their prospects remain bright.
As we described above the typical career spans across 3 main categories, teaching/facilitating, Change project management, strategic change.
While there is a significant leap into strategic change at a consultancy level, the key driver remains two-fold, knowledge and experience of change principles coupled with deep interpersonal and communication skills.
Change qualifications are plentiful and increasingly important to make you stand out from the crowd and should, of course, be considered.
Many organizations will look for a level of experience of different industries, business types and demonstrable evidence where change has been successful, this is especially true of roles leading large-scale organizational change within a company.
For many looking for a career in change management, they may be well advised to specialize in a particular niche or industry.
As their career grows they can look to exploit this deep process knowledge. Especially if they have gained insight into particular improvement philosophies within it.
Roles like change analysts offer excellent opportunities at getting a change orientated career going, growing skills as you learn and building on responsibilities and aligning them to a change management career path.
Like many jobs a successful career is often born out of networking, getting involved in Change projects, networking with project managers or subject matter experts and taking opportunities to become involved when they arise.
All of this provides excellent opportunity to learn the change process, gain key insight into how projects and programs are structured and then, as your skills develop, facilitate others into gaining this knowledge.
So, get those conversations with project/programme managers within your business started, internal moves can often springboard your career. This is particularly true when your current employer can support you with training or development.
Once you've gained sufficient knowledge and you're looking to move out of your existing company, don't be afraid to consider contract opportunities, while opportunities such as these will typically expect incumbents to hit the ground running and be tied to a specific duration, they offer excellent avenues in learning about new businesses and that ever-important networking.
So from entry level to consulting roles, the morale of the tale is to be proactive. Look for opportunities where you can become engaged in your current organization and develop your skill set. Look to get exposure and grow both your experience and skills so that you become an asset that can provide value to future employers.
Got some thoughts on a career in change management? We'd love your feedback below.