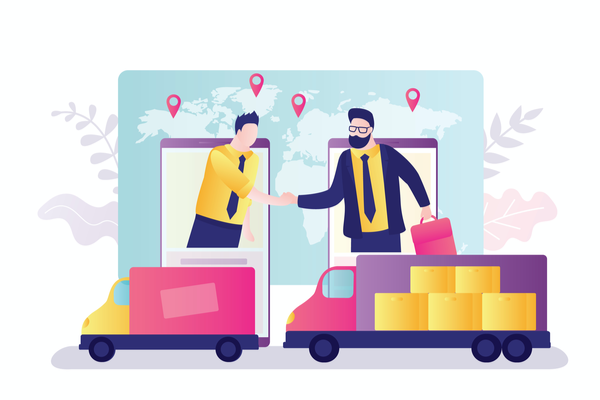 Supplier development is the act of the buying organization working closely with a supplier, or group of suppliers, to drive improvement.
Supplier development targets goals initially laid out by the buyer and delivering advantages for the buying organization. In most cases, however, both parties receive a level of benefit from the collaboration.
Despite this simple introduction, supplier development can be a complex process requiring clear expectations and demanding both commitment and expertise to deliver improvement aligned to the buying organization's goals.
In this article, we'll be looking in detail at Supplier Development; we'll be covering:
Supply chains offer an innate 'engine room' of opportunity and innovation that often goes untapped.
While short-term objectives may be based around 'getting parts delivered', long-term objectives often center around aligning supplier capability/capacity/performance to longer-term strategic goals.
Supplier development involves buyers and suppliers collaborating in order to deliver against clearly identified goal(s) that often requires a level of change from the supplier.
Initiated by the buying organization, the development process is based on achieving the business's key needs.
This often leans heavily on supplier relationship management techniques; with buying, organizations looking to work closely with specific suppliers to review and enhance performance.
Whilst the primary focus is the needs of the buyer, a level of benefit must also exist for the supplier. These benefits could be achieving increased capability (which can be used across its customer base), or at their most basic, simply retaining business.
Common goals of supplier development include:
Reversing poor performance
Improving capability
Enabling innovation
Increasing productivity
Improving efficiency
Improving competitiveness
Typical Supplier development initiatives have several key characteristics:
It starts with specific goals
It usually focuses on a number of key suppliers
Benefits of participation exist for both buyer and supplier
It can focus on reversing something (like poor performance) or enhancing something (like capability).
It usually helps cement a longer-term relationship
It can focus on a range of targets, including:

Performance
Relationship
Capability
Management
Production

It can be complex
Goals are often realized over the longer term, with smaller milestones achieved along the way
Monitoring is key to ascertaining progress
There can be an implied threat that underperformance or failing to achieve change may affect future order placement.
It can be a quicker and cheaper alternative to bringing in new suppliers.
Most organizations will procure some level of materials and services.
Suppliers are, therefore, a key enabler in achieving goals for most organizations.
There are several attributes that help deliver value, these include:
Quality
Cost
Schedule
Communication
Capability
The effectiveness of a buyer-supplier relationship is often built around these key drivers.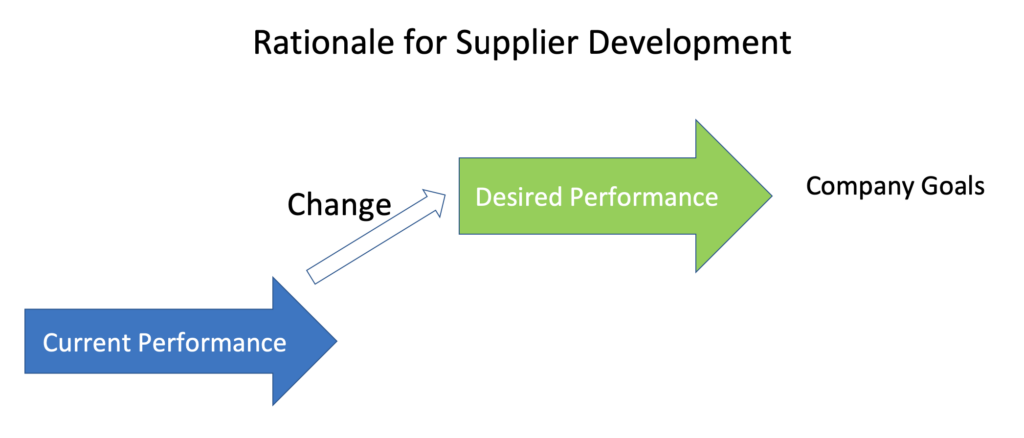 Where one of these areas is suboptimal, the buyer is faced with a key decision, do you swap out the supplier for another? Or do you look to align them with the needs and targets of the buying organization?
Sourcing suppliers can be time-consuming and costly; in many cases, supplier development offers a more optimal route.
Supplier development is a crucial factor in helping organizations collaboratively drive improvements, identifying both goals, focusing on process and interaction to deliver qualitative and quantitive change.
One of the key challenges, however, is finding a process that delivers against that potential.
Effective supplier development relies on a robust process.

The first part of the process is an assessment of how aligned the supply chain is in delivering against the organization's goals.
Where there is a misalignment in output and goals, a change is required.
This change will necessitate either different suppliers or a change in existing suppliers' performance.
One of the key initial considerations is the level of influence the buying organization has.
This can vary tremendously based on many factors including,
Competition within the seller's market (i.e. are there many sellers offering similar products at competitive prices)
The size of the selling organization & reliance on the buyers business
Unique abilities that the seller has (i.e. Intellectual property, technology, process)
Remember that a supplier cannot simply be commanded to change.
Buyer leverage is key, and participation often requires two things.
1/ Benefits or impact of non-participation to be obvious
2/ Ability to deliver the program of change (whether that's through people, technology, or other).
One thing that is clear is that the clearer the goals or expectations then the more simple it will be to deliver it.
A typical supplier development program will be based on three core principles (Assessment, Training, and Improvement).
The actual development process will often have a range of steps which typically include:
Planning

Developing goals
Identifying suppliers
Identifying benefits
Developing project/management team
Identifying Risk

Supplier Engagement

Engaging with the supplier (Invitation to participate)
Identifying development areas that can facilitate goals being achieved
Being clear about benefits
Developing of supplier side plan
Identifying dependencies (resources etc)

Implementation

Implementation of the plan
Onsite collaboration
Training
Capturing data

Sustainment

Monitoring results
Ongoing Sustainment Activities (Project Meetings, communications

Closeout

Recognition
Measuring results
Realization of benefits
Agreeing follow up actions
One of the key steps is communication. As we described, suppliers cannot usually be forced into change; however, steering a supplier through the issues and the change required, having a clear (often shared) set of benefits can help drive buy-in and trust.
Supplier development will typically involve elements of the buying organization and a range of suppliers.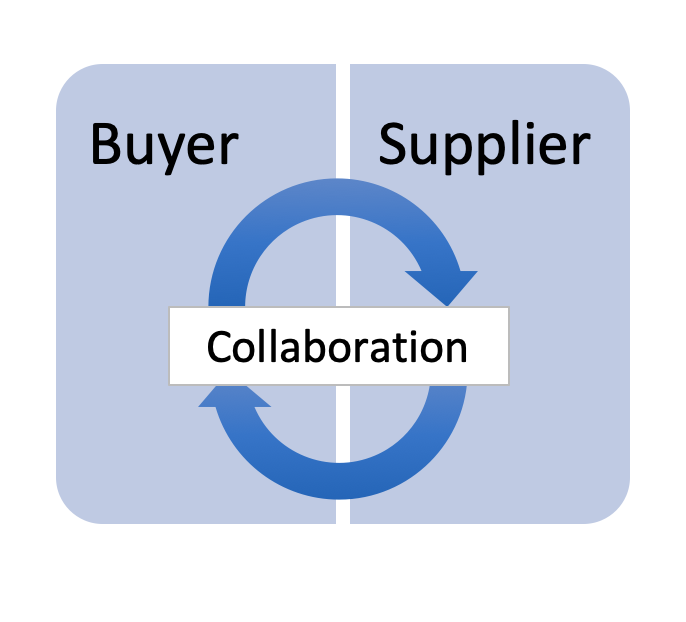 Whilst often supply chain led, some businesses will rely on supplier development being achieved as part of the "day job" whilst others, often with more complex needs (or of a larger size), may have dedicated supplier development staff.
Supplier development often necessitates a range of suppliers and projects at any one time.
While often coordinated by the Supply Chain Function, cross-functional teams are common and will often include:
Buyers
Commodity managers
Quality
Production staff
Engineering
Members of the leadership team
The buyer's development team is often mirrored by the seller organization.
Implementation methods can vary in shape and size; goals are typically established early in the process, with one of the following three processes being utilized.
1/ Selling organizations drive improvements and report back results against an agreed target/plan
2/ Buying organization drives improvements embedded within the supplier (by sharing expertise and/or resource)
3/ Collaborative process where both organizations help deliver change.
On-site collaboration is often a key enabler. Change will often require elements of both parties being directly involved with one and other. In some cases, this can be driven by collaborative sharing of resources (i.e., production engineers from the buying organization working directly with key suppliers).
This type of approach can often bring more rapid innovation and change than engaging a new supplier.
Despite its importance, supplier development can be complex. There are various, often significant challenges to overcome in order to deliver benefit; these include:
Suppliers may be distrustful of program
Benefits for the supplier may not outweigh the effort required
Buying organization may not be of significant importance to drive effective participation
Insufficient resources to deliver against the plan
Fear that participation may expose costs or intellectual property
Fears that lack of engagement can impact the future relationship
Lack of trust in motives of buying organization
Can require some level of commercial agreement that can be challenging to agree upon
Requires careful planning in order not to stretch resources and weaken the impact
The selection of suppliers for development is crucial in output
Sustainment of program after initial 'excitement.'
Where the buying organization can overcome the challenges, key (and critical) benefits can be realized. These include:
Upskilled suppliers
Supplier performance aligned to buyers goals
Long-term collaborative relationships.
Reduced risk
Innovation
Reduced costs
Improved awareness of requirements
Improved value add
Summary
Supplier development involves working with your suppliers to drive change, resulting in key benefits for the buying organization and the supplier.
Implementation can be complex, and there are various challenges that must be overcome in order to deliver progress.
Succesful supplier development requires a collaborative process model that includes goal setting, assessment, change management, and sustainment.
There are several enabling factors which include, communication, resources, clear goals.
Has your organization got a successful supplier development program? What lessons have you learned? Have your suppliers been welcoming of the process, or have you had challenges with trust?
We'd love your feedback; you can reach us on Twitter (https://www.twitter.com/sanbustrain) or via the comments section below.
This article is part of our Supply Chain Guide.