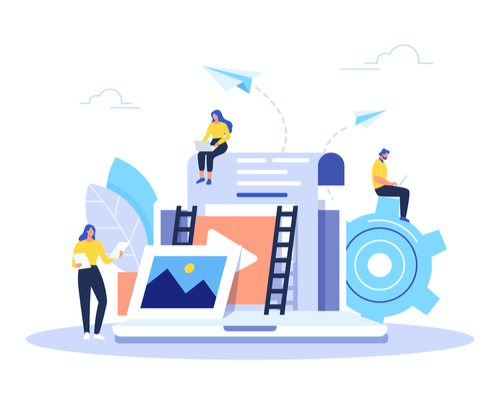 Great employee engagement is more than a team photo or a lunch with the director of the company.
When employees develop a connection to their place of work (and their co-workers), they are likely to be motivated, effective, have an awareness of goals and values, and understand their well-being and that of their colleagues.
As a result, the significance of selecting the best engagement schemes and ideas should not be underestimated.
If you get it wrong, you'll not only waste valuable time, but you'll disenfranchise your employees and fail to see benefits.
In this article, we'll be focusing on employee engagement ideas and the importance of the process; we'll be looking at:

Before we look at some employee engagement ideas, let's take a step back and ask ourselves what is employee engagement?
While employee engagement is often associated with fun things like games and activities, it goes far beyond that. Companies employ engagement to do two main things
Build culture
Drive performance.
Employee engagement can be characterized by a series of attributes:
It targets engaging employees to create a positive culture
This culture can help a business achieve its goals
It utilizes psychology
It is not an exact science (some ideas will work in one business but not in another)
It encourages employees to feel passionate about their jobs
It encourages employees to feel committed to the company they work for
It Looks to foster maximum effort from employees in their work through their emotional connection to the company.
While there a multitude of options, most employee engagement ideas will be built around a hierarchy of needs.
Growth
Recognition
Relationships
Benefits and reward (i.e., financial)
Safety & Security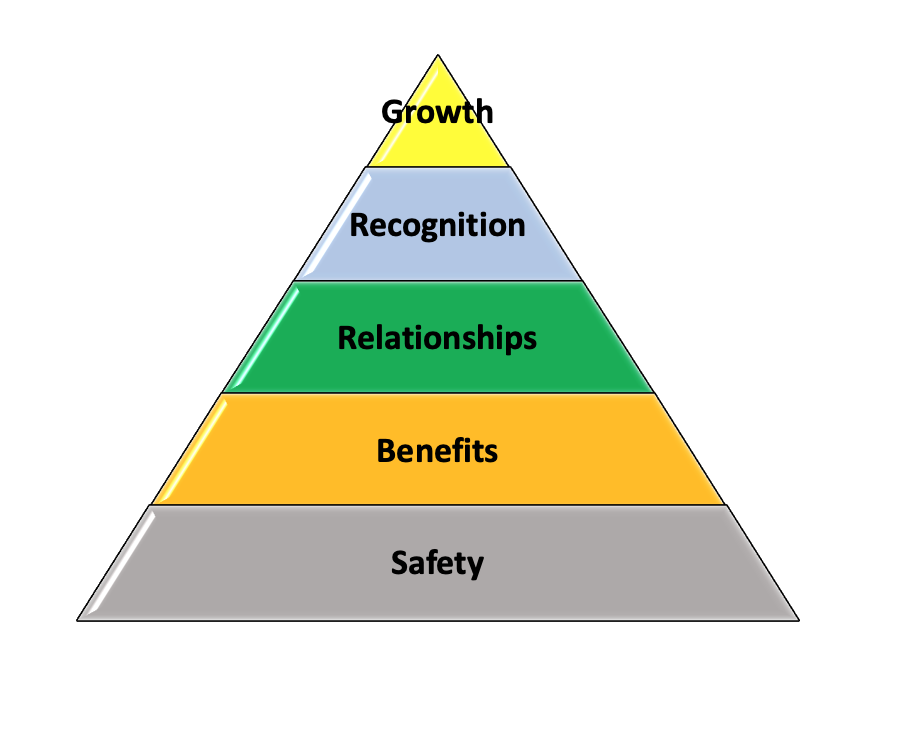 As you can see from the pyramid, different schemes can drive different levels of engagement as a result of employee buy in.
Let's take a look at some employee engagement examples:
Have a great onboarding process – There is a close relationship between onboarding and engagement. Great onboarding directly correlates to how quickly employees flourish. Onboarding represents the starting point for an employee and can create the foundation that provides an enduring bond with the organization.
Give every new starter a mentor – As a new starter, everything is new and strange. The importance of having someone you can ask questions of or is there simply to reinforce values, should not be underestimated.
Empower your staff – One sure-fire way of cooking up some responsibility within your employees is by delegating decision making. There is clear evidence that equipping employees with a level of authority (while still holding them accountable) can drive effectiveness and job satisfaction.
Utilize employee surveys – Want to know what employees want? Ask them!! – Ask what is needed to drive engagement and act on it. Use regular surveys, ask the right questions and then follow up on the results.
Accept criticism and feedback – The best organizations learn from their employees. When things go wrong or the business makes mistakes, employee engagement can be obtained by showing that the organization has listened and has made changes.
Excel at Professional Development – Continued training, whether in support of a recognized qualification or not, can not only drive retention rates but can drive efficiency within the organization.
Stress the importance of ethics and values – It's not just about fiscal goals; employees become engaged because of what the organization stands for.
"It's about the mission" – Be clear on the organization's mission and why it's there, associate the mission with values, and foster buy-in from employees.
Provide the best resources – Provide the best conditions for the employees to flourish, the right environment, the right tools, the best systems, the best knowledge.
Promote flexibility – drive engagement by being prepared to adapt to how work gets done.
Reduce distance from leadership – Develop methods on how to bring your management closer to staff. Improve the frequency and types of communication. Get them to listen and respond, create a culture where the voice of the employee matters.
Have great office design – Office design enables so many facets of our working life, from creativity to collaboration. Office design is not just furniture but the careful layout and use of areas culminating in a space where your employees thrive.
Maintain work/life balance – Minimize the always-on culture, recognize that your employees will be more effective with a clear work/life balance.
Utilize Awards & Recognition – Recognizing and celebrating effort and dedication through simple tools like "employee of the week" can reward effort and build strong bonds.
Foster teamwork – Positive working relationships equal a formidable tool for the organization and can add huge benefits for all.
Equip your team – Have you asked for feedback on what tools and equipment the team needs to deliver their goals? Don't just decide for them; having input into the way we work can build both trust and engagement.
Celebrate innovation – Innovation drives change and improvement. Develop ways that encourage and enable innovation and then celebrate it when it occurs.
Promote networking – Internal Networking drives employees to look beyond their department and typical tasks and consider how they fit and add value into the broader organization.
Support and enable charity – Charity helps reinforce company values and demonstrate empathy. Devise ways in which employees can become actively involved within the process.
Promote Cross-Training – Cross-training drives increased awareness of roles and functions within the workplace helping an employee to develop an increased understanding how they contribute to the bigger picture.
Celebrate – Celebrating landmarks such as birthdays, weddings, new starters, retirements, celebrating those important "employee moments' shows an affinity to what matters.
Have a bring your person/pet/object to workday – Enable your employee to demonstrate what's important in their lives by bringing it to work.
Promote autonomy – Many people benefit from being given a level of autonomy over carrying out their job. By minimizing management down to only what's necessary, you help display trust in your workforce.
Say thank you – Simply saying thank you and showing gratitude towards hard work can be sufficient to benefit the employee /workplace relationship – sometimes it's the simplest things that matter.
Support personal projects – Provide employees with some time to develop their own projects. Perhaps a new tool, perhaps a new process. Whatever the project, there can be huge untapped pockets of innovation within an organization that simply need support from the business.
Share best practice – This has two benefits, firstly it enables the organization to capitalize on innovation, secondly as a form of praise where employees see their best work promoted around the business.
Encourage positive health – Promoting both health and well being within the organization has a multitude of benefits.
Hold team-based events – Team building days can be an excellent way to drive employee engagements by creating an atmosphere that drives communication and teamwork through fun interaction.
Volunteering – Volunteering can facilitate learning, emphasize purpose and have the benefit of supporting important charities. The skills that are provided not only help those in need but also help build brand awareness of the organization within the community.
Have team lunches – Use mealtimes to bring staff together, give them the opportunity to network, learn and build relationships.
Have field trips – Use trips and visits to facilitate learning and communication – these can include visits to suppliers, customer groups, trade shows, for example.
Utilize Profit Sharing– Often used as either a bonus to an individual or to the organization overall. Benefits align employee hard work to reward.
Use failure as learning – Too many organizations punish failure; organizations can drive both engagement and effectiveness by utilizing learning from experience and continuous improvement culture.
Learn from others – Don't be afraid of learning from other organizations – engage your employees to use tools such as benchmarking to capture & reuse great ideas to improve day-to-day practices.
Address fears – Everyone worries about things; it's only natural. Significant worries can affect both performance and engagement – Find out what your employees worry about and, where possible, address it.

As we pointed out in our introduction, while often associated with 'fun at work,' employee engagement targets several essential business goals, including:
Improving performance
Reducing employee turnover
Improving commitment
Improving job satisfaction
Improving communications
Improving mission and goal awareness
Facilitating innovation
As such, it's one of the key Human Resources tasks.
Employee engagement is not merely a one-off activity and should be viewed as a cyclical process that goes through a typical PDCA cycle (Plan do Check Act).
As with any methodology, successful delivery of employee engagement requires an effective process.
Typical employee engagement processes will include steps that:
Set Strategy & goals
Engage with your employees and get feedback about possible methods
Analyze data,
Define & develop initiatives
Establish a role out team
Implement plans
Communicate to your employees
Gather data & Review success (will require employee engagement)
Just coming up with any old idea won't necessarily work.
You will need to carefully review your goals and match an appropriate initiative to them.
Look for engagement ideas around the following categories
Personal Growth
Recognition
Trust
Communication
Flexibility
Relationships
Rewards
Safety & Job Security
As with any business process, there are some common mistakes to avoid; these include:
Not seeing employees as individuals
Failing to understand key drivers prior to launching the initiative
Selecting initiatives that fail to add value
Not measuring success, and therefore failing to tune your process
Ignoring employee feedback
Disengaged leadership
Business strategy not taken into consideration
Potential legal or contract issues not taken into account
Engagement initiatives clash with customer requirements
Summary
We hope you found this article informative.
If you're starting out on your Employee engagement journey and have some questions (or if you've got some tips you'd like to share), you can contact us on Twitter or via the comments section below.
This article is part of our Human Resources guide.