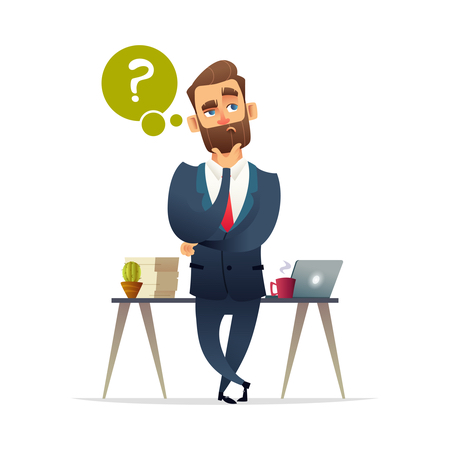 In this post, we will be taking a detailed look at the Gibbs Reflective Cycle.
The tool's main purpose is to provide a structured/framework from which to learn from experiences that you may have and drive change.
As you learn from and reflect on events and experiences, you are able to drive different behaviors to help improve outcomes and drive performance. You are learning how the same circumstances can have a different result in the future.
What is Gibbs Reflective Cycle?
The Gibbs Reflective Cycle was developed by the American sociologist Graham Gibbs in the late 1980's and published in the book: Learning by Doing: A guide to teaching and learning methods
It has the normal attributes of any process:
An input,
a series of standard steps
An Output
It's a cyclical process, and it lends itself well to events that may repeat, allowing you to learn and put plans into place to drive change.
The tool follows a common-sense approach that guides the user through a situation, reviewing it systematically. The steps encourage the user to analyze an event, enabling awareness of their actions and those of others. As a result, they can consider their behavior (and the results of this behavior) learning and adapting for the future.
The Gibbs Reflective Cycle can be used in several scenarios, including:
Individuals
Coaching/Counselling
While Gibbs originally implied the tool was for individuals to utilize. Personally, I think that it can also be applied to a team setting.
The tool can enable reviews (providing there is a level of openness) and a way of feeding back to other members of the team what works and what doesn't.
Remember, the key concept of the tool is not just to describe what has happened; but how you learn from it. There is a key focus on evaluating actions and attempting to understand the "why".
Gibbs Reflective Cycle Process
As described in our introduction, the Gibbs Reflective Cycle takes place over several stages that can be characterized by the below chart.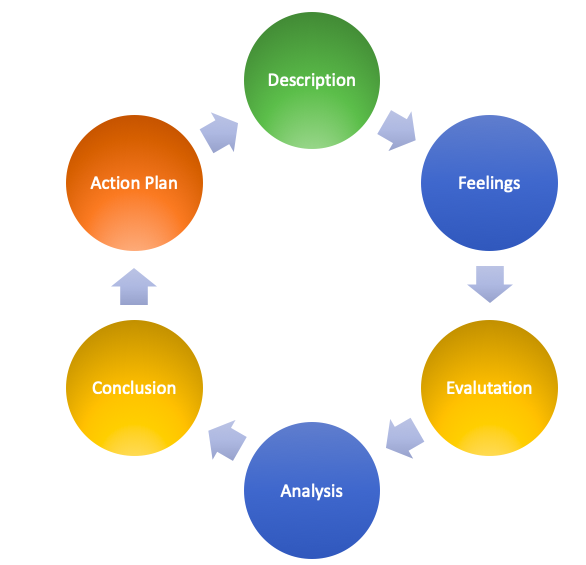 The six stages of the process are:
Description
Feelings
Evaluation
Analysis
Conclusion
Action plan
We will cover each of the stages below. It's helpful to be armed with appropriate questions for each stage, prompting the required consideration. Below we will provide some examples of these questions and how they can be applied:
(Note in our explanation to the process we refer to the item being reviewed as an "event".)
Finally, it's key that for this process to be successful, it requires the right level of detail to be captured. Aim to gather as much information as possible (recording it, i.e., writing it down).
Right, let's take a look at each of the stages.
Step 1: Description
In this first stage, the user describes the event being reviewed in detail. It's essential at this stage not to jump to any conclusions but to focus on the circumstances surrounding the event itself. Below are a series of questions that can help:
What Happened?
Where did the event happen?
When did it happen?
Who was involved in the event?
What were your actions?
What were the actions of others?
What was the result of these actions
Step 2: Feelings
This second phase of the review cyle captures and encourages recognition and awareness of the feelings that were generated from the event.
Remember that people often have enormous trouble in coming to terms with and discussing their feelings. Attempting openness and asking yourself the right questions to enable this is key:
Given the challenging nature of this stage, some may find it challenging to talk honestly. This phase can be difficult, especially if you are following the process on your own.
Try and consider the event from differing perspectives. How did you feel? How did others? There will likely be a requirement for empathy and understanding.
Below are a series of questions that can help:
What feelings did you have before the event?
What feelings did you experience during the event?
What feelings did you experience after the event?
How do you remember the event?
How do you think other people felt during the event
How do you believe they feel about it now?
Step 3: Evaluation
Up to stage 3, we have reviewed what took place and how you felt about it. While there can be issues when considering events objectively (they are your experiences after all), stage 3 will be used to assess whether you feel the event, and actions taken within it, were positive or negative.
Remember that understanding negative experiences can be key enablers to learning but can be extremely challenging.
While it's common for people to focus on the positive (what's gone right), analyzing and understanding the negative can prove difficult. Do not gloss over this element. Ensure that you tackle the event from both good and bad perspectives. Understanding the negatives can be one of the key drivers in facilitating learning.
Below are a series of questions that can help:
What went well? And what were the causes for it going well?
What didn't go well? And what were the causes for that?
What contribution did you make to events (good or bad?)
What were the contributions made by others (good or bad)?
Step 4: Analysis
Step 4 is where you analyze and draw conclusions from the event.
This will typically involve assessing the positive and negative attributes of what was documented during the earlier stages.
This phase can be challenging for those not accustomed to reviewing and it's worthwhile considering some facilitating questions:
What could have been done to drive a more positive outcome for you from the event.
What could be done to drive a more positive experience for others from the event.
Was your outcome driven by the contributions of others or vice-verca?
What would you do differently next time?
Would skills/tools have helped during the event if so what are they?
Step 5: Conclusions
During this phase, you review the results and extract information from what you've recorded during the process to gain understanding.
The following questions may help:
What would you do differently next time & How
What skills are needed to drive better results next time
How would you interact with others if the event arose again?
What did I learn from the event?
What would I not like to repeat?
What did I enjoy?
What knowledge did I use during the event?
Stage 6 – Action Plan
In the final Stage, you are encouraged to develop an action plan to facilitate dealing with similar events. Note these skills may be soft skills like communication, teamwork or problem solving or hard skills referring to the specific role function being undertaken.
This should involve recording actions that will facilitate you acting in a similar way to drive similar conclusions or differently to drive an alternative (improved) outcome.
As always, when creating an action plan this should include specific, measurable actions with timescales.
Summary
We hope you enjoyed our post on the Gibbs Reflective Cycle, I hope you find the tool useful.
As you probably recognize, the Gibbs Reflective Cycle is just one model, and there are plenty of other tools available for analyzing events, learning from them and driving change.
If you've tried it or have experiences that you think can contribute, please use the comments section below or fire us a message on twitter.
This post is part of our Management & Leadership Guide.