A 'Green supply chain' refers to a series of interconnected stakeholders (customer, primary supplier, and lower-tier suppliers) that apply processes and policies that deliver environmental and social benefits while complying with appropriate legislation.
While aspirational, a green supply chain can be challenging to establish; many organizations have a supply chain that may include large quantities of suppliers, which cross geographical & cultural borders. Legislation can be complex with a variety of standards, national and international laws to comply with. We covered some of these challenges in our post on the ethical supply chain.
Organizations often turn to their supply chain when looking to 'go green, but why is this? In today's article, I will look to answer this in covering the Green Supply Chain; including
A Supply chain consists of "activities required by the organization to deliver goods or services to the consumer." with activities required to transform raw materials to finished products or services.
A 'Green supply chain' takes those activities and applies goals, policies, processes, and legislative requirements to deliver:
Environmental Benefits, e.g., Sustainable materials, minimal to zero pollution, recycling, minimizing waste, clean logistics & transport, efficient manufacturing processes, Environmentally sound end of life processes for goods.
Social Benefits, e.g., Ethical sourcing, no child labor, no slavery, adequate wage, appropriate working conditions, adequate health & safety, community-based improvement programs
Compliance Benefits – fully compliant to appropriate environmental and workers legislation
Brand Benefits – Alignment to customers' values and ethics.
A green supply chain does not stop with one organization; goals, policies, and standards are cascaded through the supply chain from first-tier suppliers and beyond.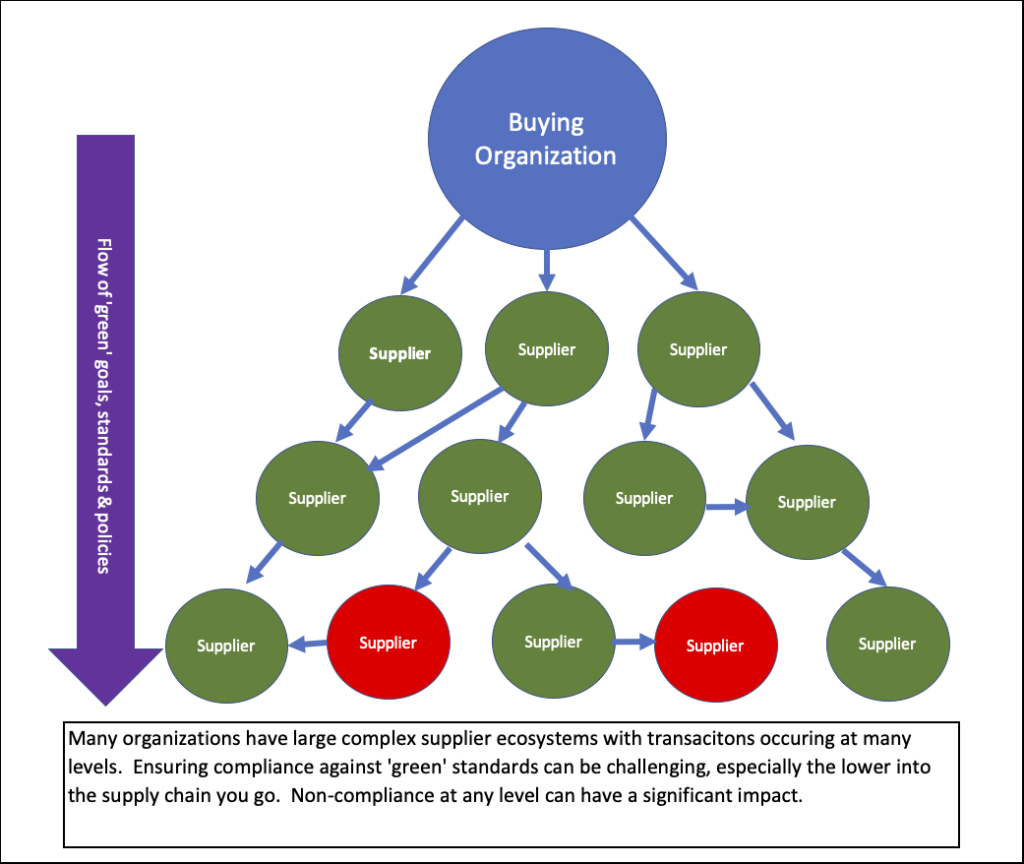 The result is a hierarchical structure of suppliers and stakeholders complying with standards and policies supporting sustainability and ethical goals.
Delivering a green supply chain can be difficult; its credibility is only as strong as its weakest link, and it only takes one failure for repercussions to be felt.
There is now considerable public awareness and scrutiny of an organization's green credibility'; it's not only expected that standards and goals exist, but they (and in turn their multi-tier supply chain) must adhere to them.
There is a range of elements that make up green supply chain management. These build upon the traditional Supply Chain processes. and include:
Clear strategy covering all levels of the supply chain
Appropriate senior ownership within the business
Clear long term goals
Clear standards and policies (which are cascaded to all levels of the supply chain)
Compliance with appropriate industry legislation
An expectation that all participants in Supply Chain will participate
Effective Compliance, Assessment and Verification processes that ensure standards are met
Appropriate resources/budget to deliver goals
Transparency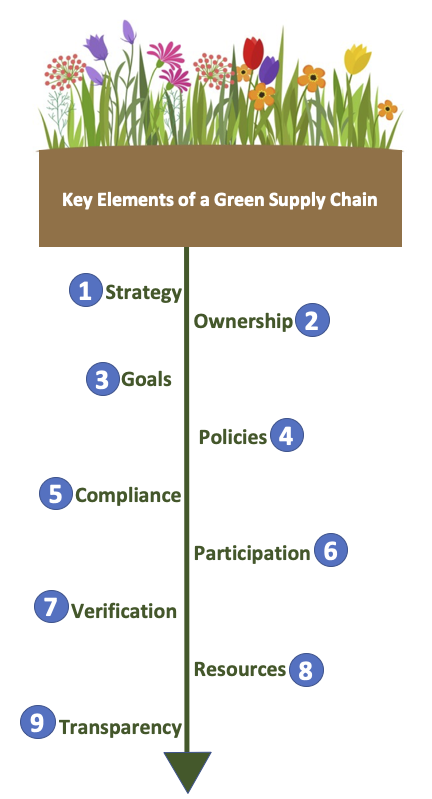 Coupled with these enablers, the supply chain directly influences 'green' performance through its standard processes such as:
Sourcing – Selecting suppliers that meet specified criteria to achieve ethical and sustainable goals. (This requires evidence that similar goals are flowed down from the supplier to its own supplier network (and beyond)).
Logistics & shipping – Environmentally friendly forms of low energy distribution methods
Packaging & Materials – Appropriate use of materials (i.e., recycled/recyclable), use of materials only where necessary
Design & Development – Design engages with the supply chain team in terms of materials used, avoiding vendor lock-in (allowing the choice of eco-friendly partners)
Manufacturing and operations – Safe working conditions, efficient machinery, minimal levels of waste
End of life processes – option to recycle or govern the disposal of the product at the end of its life
There are two primary benefits of the green supply chain, they are:
Benefits that help those outside the organization.
Benefits that help the organization itself
Benefits that help those outside the organization
The primary goals that spring to mind are those that help the environment and people, these include
Less harmful emissions
Less waste
Reduced carbon footprint
Fair Trade with suppliers in developing countries
Reduced reliance on precious materials
Improved working conditions (i.e., Health & Safety)
Increased social contributions
Higher levels of pay for supplier staff in developing countries
Benefits that help the organization
Whilst it's possible to look at those implementing green supply chains and consider that the primary reason for doing so is to help others, that could be considered naive.
There are sound benefits for having a green supply chain, aside from the environmental impact; they include:
Compliance with legislation
Brand image
Reduced risk
Deeper integration with supplier partners
Higher levels of efficiency
Reduced waste / reduced cost inc:
More innovation
Reuse of materials
Increased profitability
Perception of increased value to the customer
Now we've described the green supply chain, how can an organization achieve it?
There are several key enablers:
Clear, achievable 'green' goals
An ecological business model that is designed and configured from the outset to be 'green'
Strong risk management – Recognizing that green supply chains often center around managing risk. Risk is undoubtedly greater as you go lower into the supply chain.
Methods and incentives to ensure 'Green' requirements cascaded down throughout the whole supply chain
Effective Verification & Validation of participants to ensure processes and policies are being adhered to.
Data and information
Recognition that one size might not fit all (i.e., different cultures).
Encouraging an industry approach, i.e., Engagement & Collaboration with competitors to 'manage' the industry
One of the significant challenges is how goals can be flowed down (and adhered to) throughout the supply chain. This can be greatly facilitated by a joined-up approach with other market leaders in the industry.
Incentivisation can have a significant part to play, i.e., long-term contracts, supplier awards, membership of industry associations.
We must also recognize that that adopting a green approach may be seen as punitive. Organizations (particularly those lower down the supply chain) may face additional costs which may actually harm the supplier and ultimately the workers. It is crucial that benefits to the supplier effectively communicated.
Legislation is having an increasing influence over the necessity to adopt 'green' methods.
The picture is complex; there are different requirements in different regions, with some governments driving key standards while others are using regulation to drive change.
Some examples
REACH (Registration, Evaluation, Authorization, and Restriction of Chemicals)
European Union's Restrictions on Hazardous Substances (RoHS)
Environmental Protection Act 1990 (UK)
Climate Change Act 2008 (UK)
Modern Slavery Act 2015 (UK)
The Australian Federal Modern Slavery Act
Clean Air Act (US)
National Ambient Air Quality Standards (US)
Occupational Safety and Health Administration standards (US)
Standards and legislation are adapting continuously.
Businesses can no longer adopt a fire and forget methodology.
Businesses must have appropriately skilled resources to manage compliance.
As a minimum, Businesses need to
Align strategy to regulations
Have policies, processes, and systems in place
Have senior accountability
Have increased levels of transparency
Collect appropriate data
Embed monitoring and sustainment
Technology can have an important role to play in facilitating and sustaining supply chains. It can offer:
Improved planning to reduce waste
Improved collaboration between supply chain partners
Simplification of audit and verification tasks
Simplification of risk management
Managing sourcing
Facilitating compliance
Reducing "empty" miles & processing through automated shipping management
Technology, however, can be complex and is unlikely to be a panacea. It requires careful planning and an understanding of the ramifications for stakeholders in advance of deployment.
As I stated at the outset, a green supply chain can be complex and demanding to implement.
The supply chain is only as strong as its weakest link. Even where a minority of suppliers may be non-compliant with 'green' processes, the results can be significant and severely affect the brand.
There is a myriad of issues to navigate that include:
The size and complexity of most modern supply chains
Poor visibility of participants towards the bottom of the supply chain
Lack of incentive for those in procurement to achieve goals
Lack of training for those in procurement in how to achieve goals
The problem that influence often diminishes as you go down the levels of the supply chain, with good adherence in tier-one suppliers but often poor adherence lower down.
Use of "pre-approved suppliers that are often mandated through design choices can contradict 'green' goals'
Control is required throughout the business in order to achieve goals that can be complex to administer. Teams often have conflicting targets (i.e., cheap design may contradict the goals for materials choice).
Performance pressure, i.e., pressure for inappropriate lead times, capacity requirements, pricing, can often drive supply chain non-conformance of green goals,
Lack of contractual commitment from those lower down the supply chain
Lack of influence over suppliers
Lower-tier suppliers may lack public scrutiny and drive to comply with requirements.
Complex legislative requirements
A failure to understand different cultures
Summary
Many organizations recognize the need to embed a green supply chain.
However, it is not an overnight process, and there can be significant challenges.
Consistent verification and validation by analyzing supplier data (which portrays accurate information around sustainability goals) is a must.
Organizations must also recognize that a fire and forget policy is unlikely to bear ethical and sustainability goals that need to be embedded within the organization's fabric if it is to succeed in its strategy.
What's your experience around green supply chain? Have you helped your organization establish one? We'd love to hear from you; you can reach us on Twitter (@sanbustrain), or via you can leave a comment below.
This article is part of our Supply Chain Guide.