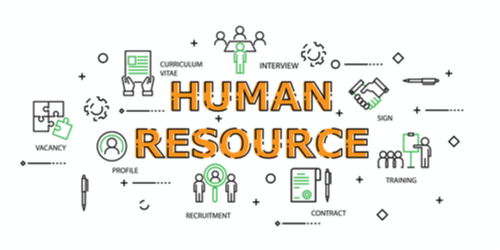 The HR Value Chain is a model that demonstrates how benefit obtained from HR Management & processes can contributes value towards an organization achieving its objectives.
In today's article, we're going to be investigating this model – the HR value chain, we'll look at what it is, how it's used, and some of its associated benefits and weaknesses.
Table of Contents
The HR value chain:
Is a step by step model
It commences with HR processes, 
It demonstrates the outcomes associated with HR process (which are often HR objectives)
 It demonstrates how HR outcomes lead to organizational goals.
The result is that the HR Value chain demonstrates two things
It demonstrates value
It demonstrates the explicit association between HR functions and the achievement of strategic/company goals.
This can help answer this simple question
"What value does HR add to your company?"
The fundamental fact is that in many organizations, HR struggles to demonstrate value and is often seen as an administerial overhead.
To answer the question correctly a business needs a method by which to articulate the journey in which value is added.
The Value chain can be presented in various ways; the most common are:
Three-stage HR Value Chain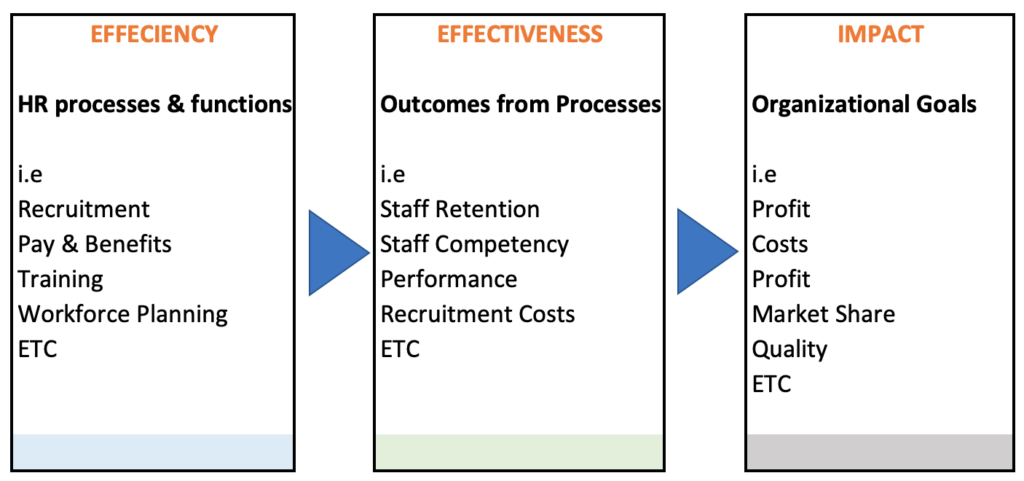 HR Value Chain Chart
Let's now look at how the HR value chain is constructed.
HR processes
As you can see from the left hand side of the three stage diagram the first input is the activities the HR functioned undertakes – it's processes – these will typically include:
Recruitment
Training
Talent management
Resource planning
Benefits Management
(you can see more about HR functions here – https://sanzubusinesstraining.com/human-resources-functions/)
An organization that is process-focused (i.e, generally more interested in cost management (i.e., reducing cost)) is at this maturity within the model.
HR Effectiveness
The next stage in the value chain is the outcomes of the processes – their effectiveness – often what is measured through traditional HR KPI's.
Being effective means that we are accomplishing a positive outcome.
This section will typically include:
Staff retention
Workforce Cost
Performance
Competency
Absenteeism
etc
Measuring effectiveness is often seen as a challenge. If you contrast HR with, say, production, where production can demonstrate value by the number of parts manufactured, HR requires an equivalent method that effectiveness is met.
This is where appropriate metrics come in.
A dichotomy is that the HR function can excel at designing & deploying processes, but if they are not executed effectively by the organization (i.e line managers), performance will be low.
A company that focuses on this stage of the model concentrates on achieving positive outcomes at low cost.
HR Impact
The final step is to associate the impact of the process to the corporate objective
For example Staff Competency may drive Productivity.
This section will typically articulate corporate goals.
These may include:
Financial measures (i.e, profit)
Market share
Competitiveness
Quality
Productivity/Output
Customer Satisfaction
An organization that focuses on stage three of the model can be determined as strategic and will focus on the contribution of its HR policies and processes.
The value chain indicates that most businesses will fall into one of three groups:
1/ A focus on cost (focusing on the left-hand side of the model)
2/ A focus on HR performance ( a focus on the middle of the model)
3/ A focus on business results (a focus on the right of the model)
A method of improving effectiveness means moving through the value chain.
While this three column value chain is the model typically utilized, there have been several modifications to this which include:
1/ The Harvard HR model
This focuses on varying levels of outcomes and how this can feedback into HR policies and procedures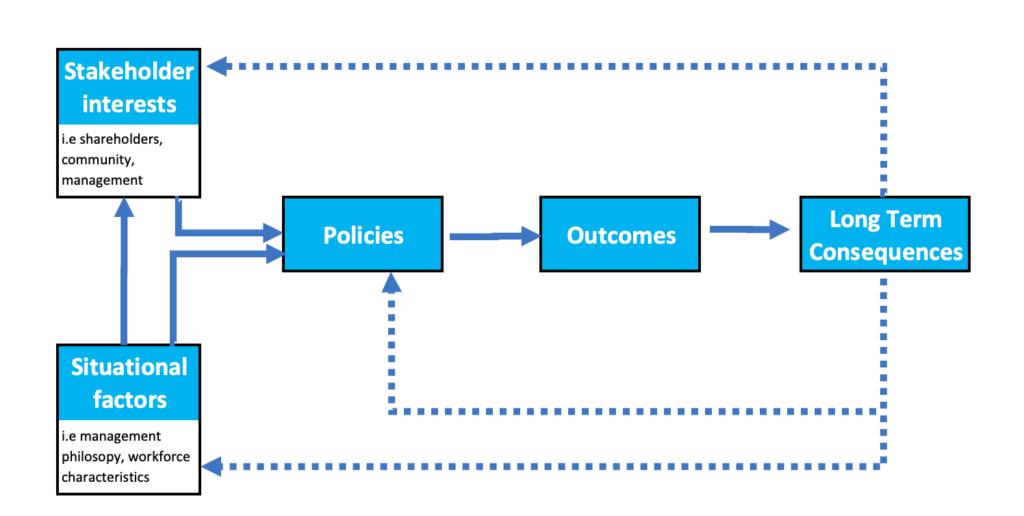 2/ Four stage model
This presumes that HR processes and performance react to an external/internal force i.e. a problem:

3/Advanced HR Value Chain Model

This demonstrates how the HR function ultimately interfaces with corporate strategy, customers and how it's performance can be driven by enablers (i.e funding)
The key benefits of the HR Value Chain include:
Helps articulate how value is obtained from HR Management
Able to identify weaknesses in business focus that may impact objectives
Articulates a maturity journey an organization can undertake
Simple/easy to understand
Almost universal application
The model is too simplistic and lacks ability to deal with nuances.
Doesn't articulate best practice (merely describes a journey)
Does not explain how linkages within the chain can be exploited
Does not explain the time taken to reach maturity
In its simple form it does not explain tools (or other enablers) that may be required to drive maturity
No weighting of activities (i.e., do some processes offer more towards goals/objectives than others).
Summary
The HR Value Chain provides an important methodology in order to articulate the value that HR can provide to an organization.
Where are you in your journey in understanding the value your Human Resources function is adding? Do you have any comments on the above article? Perhaps you have some experience in Analytics and how HR KPI's have been linked to organizations' objectives.
We'd love to hear your feedback, you can reach us on Twitter or utilize the comments section below.
This article is part of our Human Resources Guide.