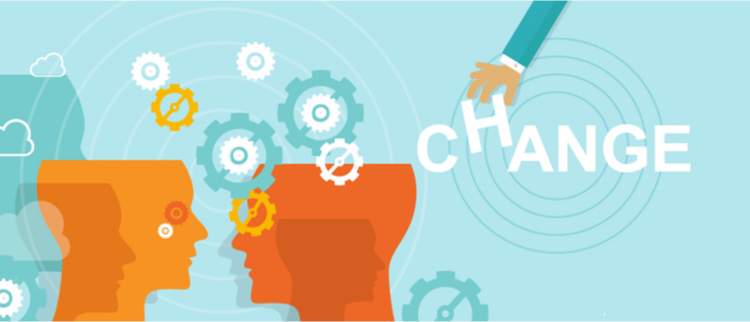 It today's article, we'll be reviewing Kotter's 8 step change model.
We will be looking at why business finds change challenging and how Kotter's model provides a methodology that facilitates organizations to implement it successfully.
In this article, we will explore
John Kotter's creation The 8-step change model, which he introduced in his book "Leading Change" is a project methodology, featuring eight steps, that aims to drive successful change within an organization.
Kotter introduced the model after researching change within organizations and finding that a significant volume of change projects result in failure.
Kotter argued that a different, more effective approach was required.
Kotter developed a method (the 8 step model) to implement change more effectively and with a greater degree of success.
Change can be many things – new projects, new initiatives, new technology, all coming together to drive the organization forward and keep it competitive.
A failure to implement change correctly can severely impede the business.
Following research, Kotter's revealed that in most businesses, the chance of implementing change successfully was only 30%.
Given that change is indeed necessary, how do you implement it effectively?
From seeing such results, Kotter derived that a new methodology was needed to drive greater success rates.
Step forward the 8-step change model.
John Paul Kotter is the founder of Kotter International, a management consulting firm, and he's also an author and the Konosuke Matsushita Professor of Leadership, Emeritus, at Harvard Business School. He's one of the thought leaders in the world of business, change, and leadership, and he's armed many people with the right knowledge to grow their organizations.
He's written 20 books, 12 of those books have become business bestsellers,, and two have been New York Times bestsellers. One of his most successful books is "Leading Change," in which he presents the 8-step change model, which we'll explain later on in more detail.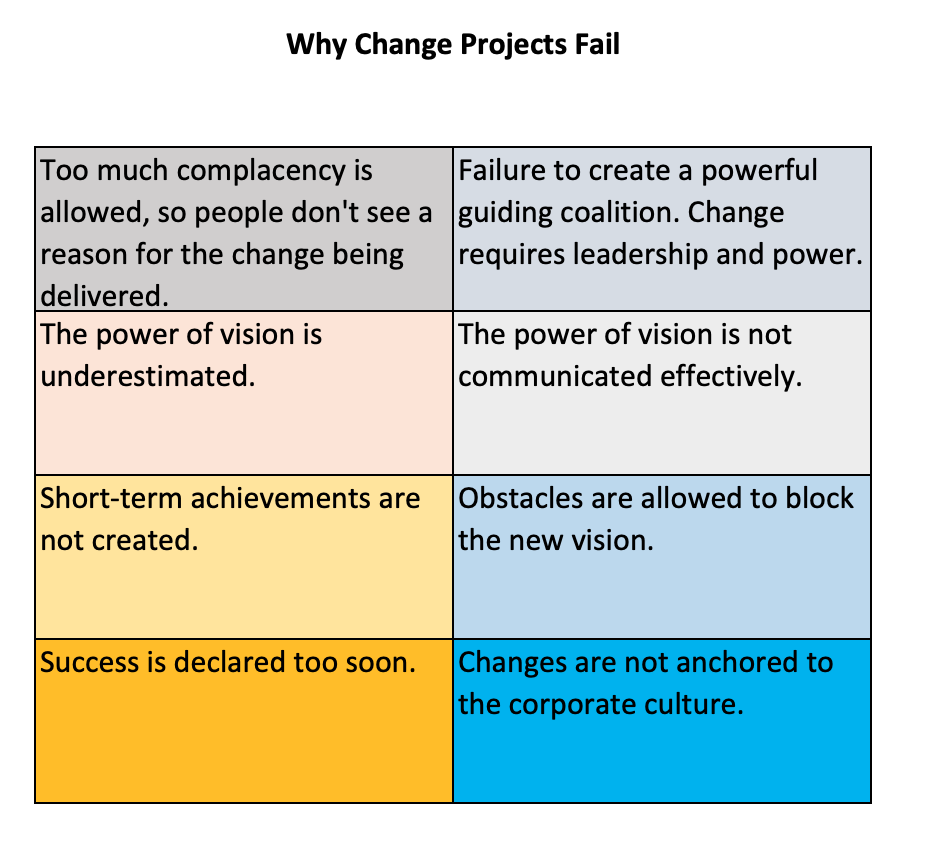 Before we look at Kotter's model, let's first look at why it's needed and what causes change initiatives to fail.
In "Leading Change", Kotter identified 8 of the most common errors people make when implementing change. They are as follows:
1. Too much complacency is allowed, so people don't see a reason for the change being delivered.
2. Failure to create a powerful guiding coalition. Change requires leadership and power.
3. The power of vision is underestimated.
4. The power of vision is not communicated effectively.
5. Short-term achievements are not created.
6. Obstacles are allowed to block the new vision.
7. Success is declared too soon.
8. Changes are not anchored to the corporate culture.
In developing his model, Kotter challenged each of these issues targeting change projects to have a better chance of being effective and successful.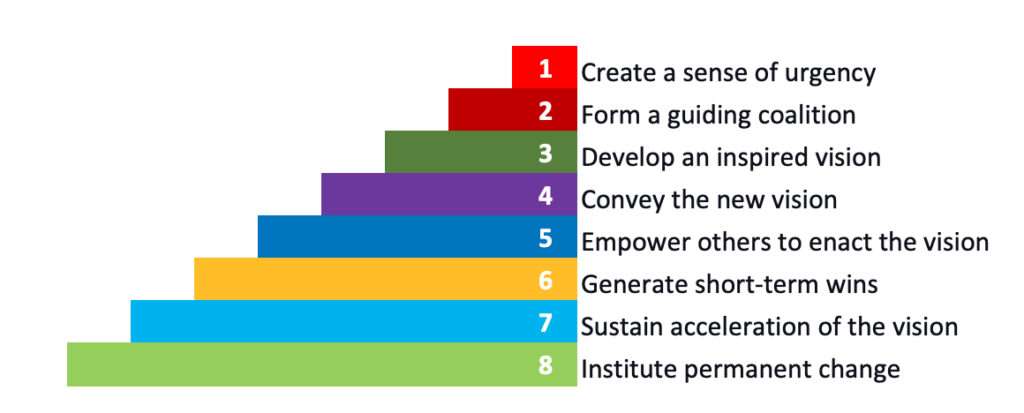 Kotter identified 8 key steps that businesses should follow to drive greater success.
This is the first step in Kotter's change model and it's all about bringing people out of their comfort zones. The objective is to make people see why change is necessary and make it urgent in their minds. This is meant to create immediate support for the vision.
The second step is all about creating a project team. Ideally, the team should consist of volunteers who understand the need for change and the project goals. The team will manage the change project and encourage everyone else to buy-in.
An inspiring vision for change must be created by the guiding coalition and the leadership. The objective of this is to build a clear vision of change and outline it clearly by aligning it with values and strategies.
The way the vision is communicated to the organization is vital to encourage cooperation and support. This is why the changes need to be discussed with individuals, and concerns must be accepted and integrated into planning.
The employees are the ones at the forefront of change, so it's important they have the skills, confidence, and resources to implement change. This step is all about empowering people to be the best version of themselves through training, mentoring, coaching, and other methods.
This step is all about breaking the project down into manageable pieces, so short-term wins can be enjoyed. This will keep everyone inspired to continue.
Declaring victory over a change initiative too early is a big mistake. Most change is long term and requires a series of milestones to be achieved to deliver the overall goal.
Organizations can utilize continuous improvement utilizing tools that can be used by everyone to review successes, learning what went right, what went wrong to help build on the momentum achieved.
The final step relates to embedding change in the organization's culture, values, objectives, and processes so it can become permanent.
1/ Allows the change process to be better understood within the organization
Kotter's model provides clear steps that are easy to follow
2/ They allow you to focus on making sure the entire organization is on board with change so it can be long-lasting.
3/ Places emphasis on motivation when it comes to establishing change.
1/ One of the issues with Kotter's model is that it's a top-down model, which means opportunities may be missed because not all employees are involved in this creation of the vision.
2/ Due to the top-down approach, it can also lead to resistance
3/ Too focused on urgency
4/ Not overly specific on what to do in each step.
5/ Implementation is not explained in detail.
Summary
Overall, John Kotter's 8-Step Change Model has helped revolutionize the way organizations implement change by addressing the most common errors.
It's not a perfect or flawless model, but it has proven to be effective once you follow the steps and integrate them into the organization's Business Management System.
It takes the edge off of change by making it easier to understand, easier to implement, and easier to maintain.
If you have comments on this article, we'd love to hear from you. You can use the comments section below or message us on Twitter.
This article is part of our Management & Leadership guide