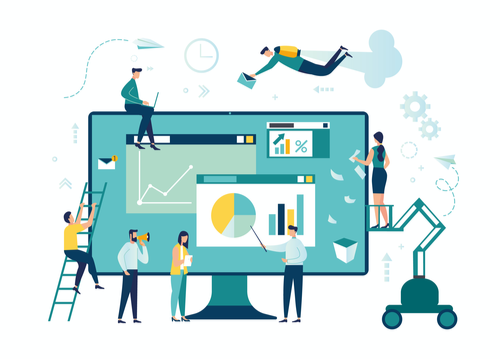 The performance management cycle is a process that sees an organization develop its employees to help it achieve goals and objectives.
It utilizes a repeating four-stage methodology and is a subset of the Performance Management Process.
The four stages of are:
Planning, 
Monitoring, 
Reviewing,
Rewarding.
In this article, we'll be covering:
The performance management cycle:
Is a process that targets improving performance by establishing goals (both at an individual and team level) and monitoring performance against them.  
Aligns these employee goals to strategic goals and objectives
Have four distinct phases

Monitoring
Reviewing
Rewarding

Is a widely used methodology
Is a continuous cyclical process
Uses monitoring phase to track progress
Is a process that sees an organization develop its employees to help it achieve goals and objectives.
Can be used for teams as well as individuals.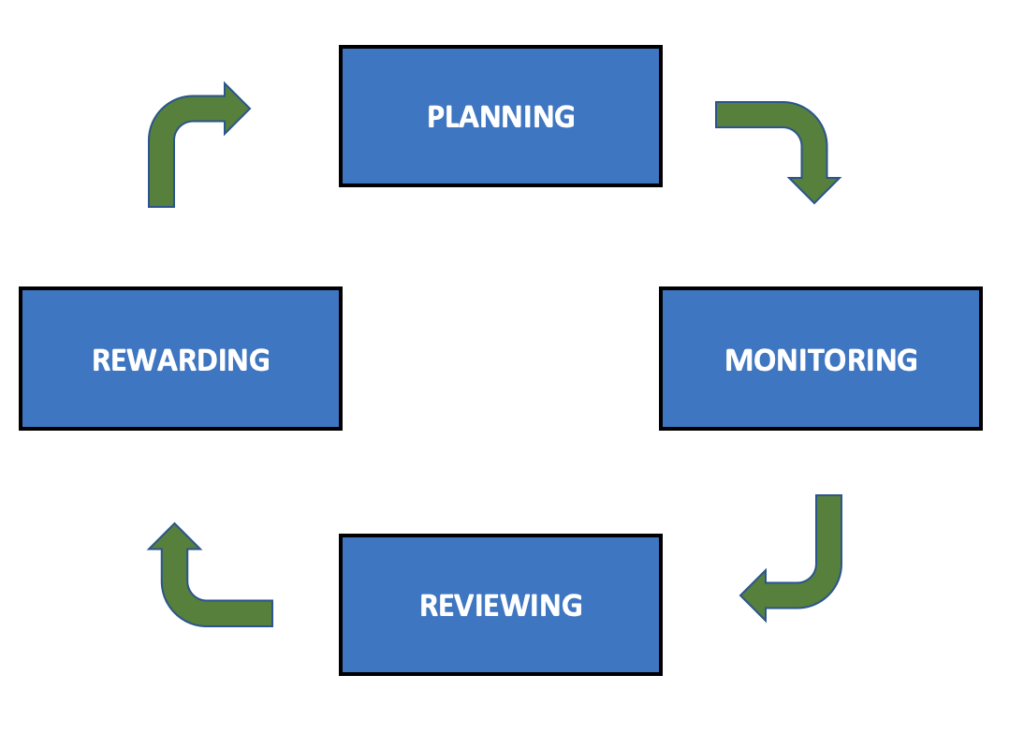 The process targets developing a range of attributes of all employees throughout the organization; these include:
Skills
Knowledge
Professional certification
Capability
In utilizing a Performance Management Cycle (PMC), an organization aims to
Align objectives throughout the organization
Improve skills within the company
Increase levels of staff engagement
Establish documented plans
Establish dialogue regarding expectations
Identify possible underperformance
Implement standardized performance measurement throughout an organization
Planning
Planning typically involves a series of steps, which include:
Management/Leadership determines the organization's goals and objectives for the upcoming year.
Management ensures objectives align with strategy
Management cascade objectives down throughout the organization
Middle management determines what activities employees can undertake or levels of performance to deliver over the period (often the year) to help achieve top-level goals; this often includes:

Development
Learning
Behaviours
Productivity
Team-based activities

Employee goals/objectives are reviewed between the employee and management
Planning is often a collaborative process between the employee and their line manager in order that:
Employees can provide input
A level of understanding is reached around goals being set and how they will be measured
Employees may suggest additional activities/actions which they believe can contribute
The employee is engaged with the process
During this stage, the employee's development plan will be constructed.
It is important that this is analyzed as it's being written to ascertain that it remains aligned with corporate objectives; if not, then they will need to be re-evaluated.
Rather than large goals ( which can be unmanageable and demotivate staff), the plan should articulate smaller milestones that can be achieved throughout the year that culminate in the larger goal.
These smaller milestones can then be evaluated during the monitoring phase.
Finally, the development plan should clearly articulate the actions that are required in order to deliver against the objectives.
Monitoring
Monitoring is a crucial element of Performance management; it:
Provides an overview of progress
Indicates if targets are likely to be achieved
Provides an opportunity to ask for /provide help
Provides an opportunity to assess continued relevancy of goals (and adjust where required)
Reviews actions & Issues
The performance management cycle is ineffective, and motivation can be lost if:
Monitoring is infrequent
Reviews are insufficiently detailed.
Reviews are top-down only (i.e., the employee is unable to contribute).
Monitoring needs to be planned from the outset and conducted at regular intervals (often monthly) in order to succeed.
It's important to remember that organizational goals are not generally set in stone and can shift during the review cycle. As a result, it's important that, during the monitoring phase, the employee's objectives are regularly assessed to ensure relevance (that said, changing them significantly and often can reduce the impact of the process).
Reviewing
At the end of the cycle, goals are reviewed to ascertain if they have been achieved.
While this can be a specific review, it is often the final monitoring phase for that year.
The review provides a chance to review performance against goals AND the process itself.
Where sufficient monitoring has taken place throughout the cycle, there are unlikely to be last-minute surprises.
The step allows the employees and the manager to evaluate both the goals set (and levels of achievement) and the performance management process.
This phase should follow a two-way dialogue where both the manager AND the employee:
Review performance from their perspective
Provide feedback
Critically assess the goals that were set i.e

Were they too hard
Were they too easy
Did the goals contribute to the organization

Reviews issues and challenges
Discusses help requested/provided
Highlight future development opportunities
Discuss benefits/rewards
Review how the process can be improved in the next cycle
Rewarding
The management review cycle commonly aligns performance to a level of employee benefits received.
This phase is a key enabler behind employee motivation to the process.
Without linking reward with performance, people can lose motivation and buy-in and engagement wains.
Obviously, rewards should be achievement-based; those underperforming should not be rewarded the same as someone who has contributed (or outperformed) against their objectives.
There is often debate about what constitutes a fair reward vs. the contribution that has been made, but increasingly organizations are adopting standards that can be applied throughout an organization (i.e., % of salary increase based on achievements).
Organizations are increasingly adopting broad types of rewards that are not always directly linked to salary – for example:
Increased vacation
Promotion
Training
Further opportunities within the organization (i.e., the ability to join a special team or project)
Supervisory opportunities
Increased engagement with outside stakeholder groups (i.e., Customers)
Whatever the benefit is, it should be articulated at the start of the review cycle, so there is no ambiguity, and both the employee and manager are fully aware of the potential outcome leaving no-one dissatisfied.
Following the reward, the cycle begins again.
An effective Performance Review cycle requires
Detailed planning
Collaboration between management & staff
Regular reviews
Realistic goals (see SMART objectives below)
Sufficient help
Constructive dialogue around issues and risks
Realistic ambitions
Open and frank dialogue.
While there are various methods of establishing goals and objectives, one of the most popular ways of evaluating these (to ensure that they are valid and robust) is that they are SMART objectives.
SMART stands for
Specific – the goal is clearly articulated, describing what must be done.
Measurable – the goal must be measurable to prove that it has been achieved.
Achievable – the goal must be achievable (while it can be challenging, it shouldn't be impossible).
Relevant – the goal should be relevant to both the individual undertaking the task and how it fits in with the broader corporate goals.
Timebound – the goal should include the duration or target that the goal needs to be completed in/by.
Example SMART objective:
By the end of the financial year, reduce procurement costs by 5% (compared to the previous financial year) on electronic components bought within Europe.
There are numerous benefits associated with the performance management cycle; these include:
Increased employee engagement
Standardized review process across the organization
Highlights training needs
Identifies star performers and likely promotion candidates
Drives commitment & motivation
Facilitates a learning organization.
Performance reviews are not without their challenges, and common issues include:
Poor goals

Not aligned to corporate objectives
Too hard
Too easy
Inappropriate
Not flowed down correctly within the organization.

Not following through with planned monitoring.
Feedback not given regularly
Feedback given is of poor quality
Not answering employee requests for help needed.
Not enabling goals to be achieved (i.e., lack of tools, training)
Not articulating where poor performance can be improved.
Not treating all staff the same (favorites vs. Problem employees)
Rewards do not equal contribution/effort.
Summary
We've probably all experienced some form of the Performance Management cycle whether as managers or as employees.
Undoubtedly the process has a lot to offer in terms of seeing staff developed and the organization using a structured mechanism to achieve goals.
As with all processes it's not without it's challenges and requires three key principles in order to drive success
It is collaborative, not top down
Communication is effective
The process is adhered to and interest is allowed to waine
If you have some feedback on the article we'd love to hear from you, you can reach us via Twitter (@sanbustrain) or via the comments section below.
This article is part of our Human Resources Guide.