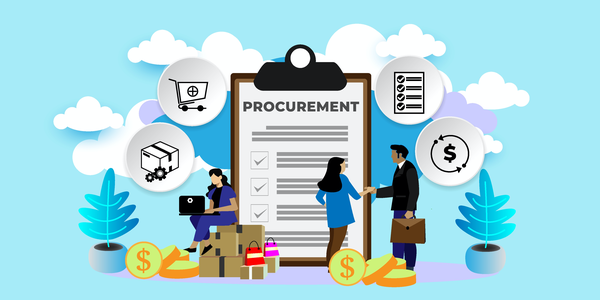 All businesses rely heavily on their supply chain function to meet their strategic objectives. One of those essential supply chain functions is procurement.
Procurement is a decision-based set of processes that includes sourcing suppliers, negotiating, agreeing contracts, tendering, and placing purchase orders.
The procurement cycle can help a business understand the steps in which products, materials, and services are acquired.
In this article, we will be looking at the procurement cycle; we'll discuss:
The procurement cycle:
Is a model that describes, by a series of high-level steps, an organization's procurement process.
Is a key strategic process.
Describes how materials and services are bought into an organization.
Establishes the sequence in which process steps occur.
Is often heavily influenced by the needs of the customer.
Can be portrayed in varying levels of complexity
Below is an example of a procurement cycle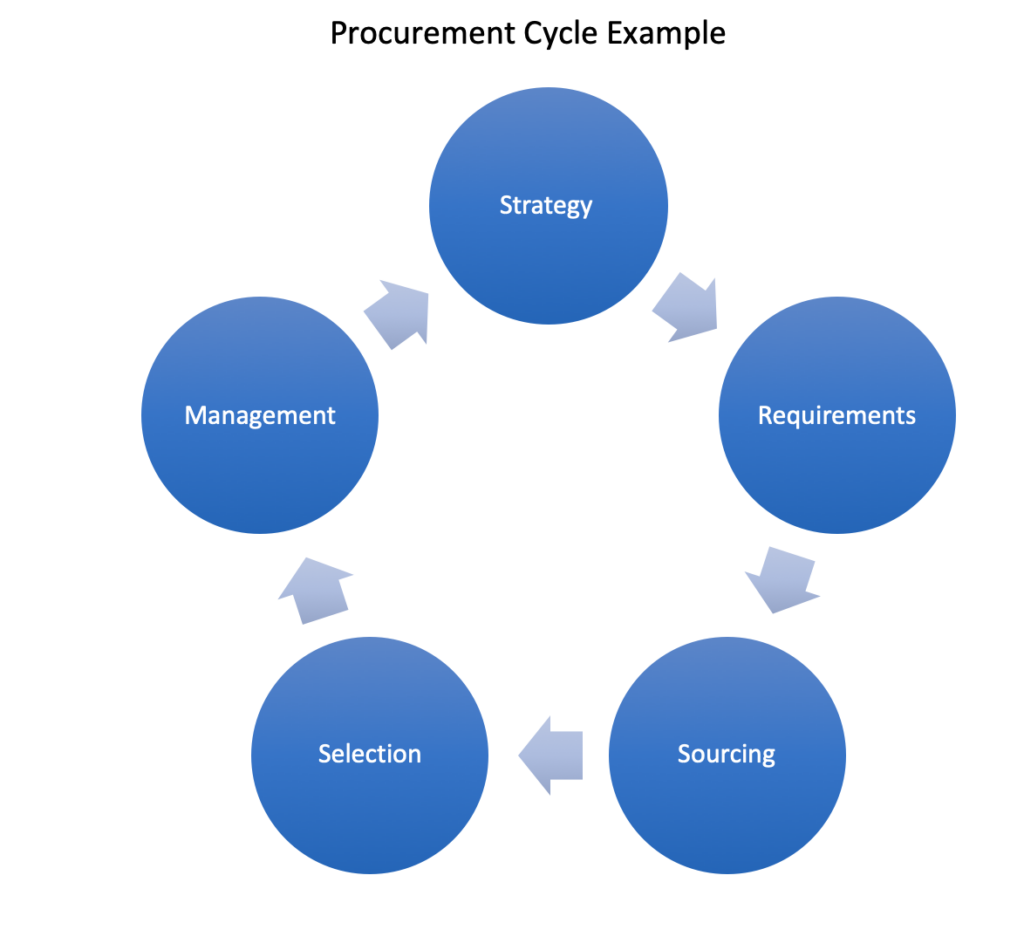 Viewing the procurement cycle can enable an organization to understand underlying procurement processes that can be complex with varying inputs and outputs.
The procurement cycle has several characteristics:
It's cyclical, representing a constant need for material and supplier management
It's defined by steps, each of which is critical to the overall process
These steps usually feature a set of key principles that establish an effective process
It's adaptable
It focuses on the total cost of the process rather than the price of the item
With a little research, you will see a number of procurement cycle models that vary in complexity and number of steps.
These cycles may vary from a relatively simple procurement cycle of 5 or 6 steps to other, more detailed examples showing a greater number of activities.
Those examples with larger numbers of steps often break down tasks into sub-tasks.
When developing your own procurement cycle, you'll need to:
Consider the impact on your own internal processes
Consider the impact on your wider environment
Consider the impact on your customer
In this article will cover several procurement cycle examples to demonstrate how they are structured and how you can apply the model to your business.
Remember, the key to the procurement cycle is providing a clear understanding of management processes.
A failure to manage cost or performance can drive serious issues.
Therefore, processes that establish a procurement function that drives cost-effectiveness, delivery performance, and vendor evaluation and selection have a key part to play.
As we described above, there is a multitude of procurement cycles available in varying complexity; we'll cover three examples below: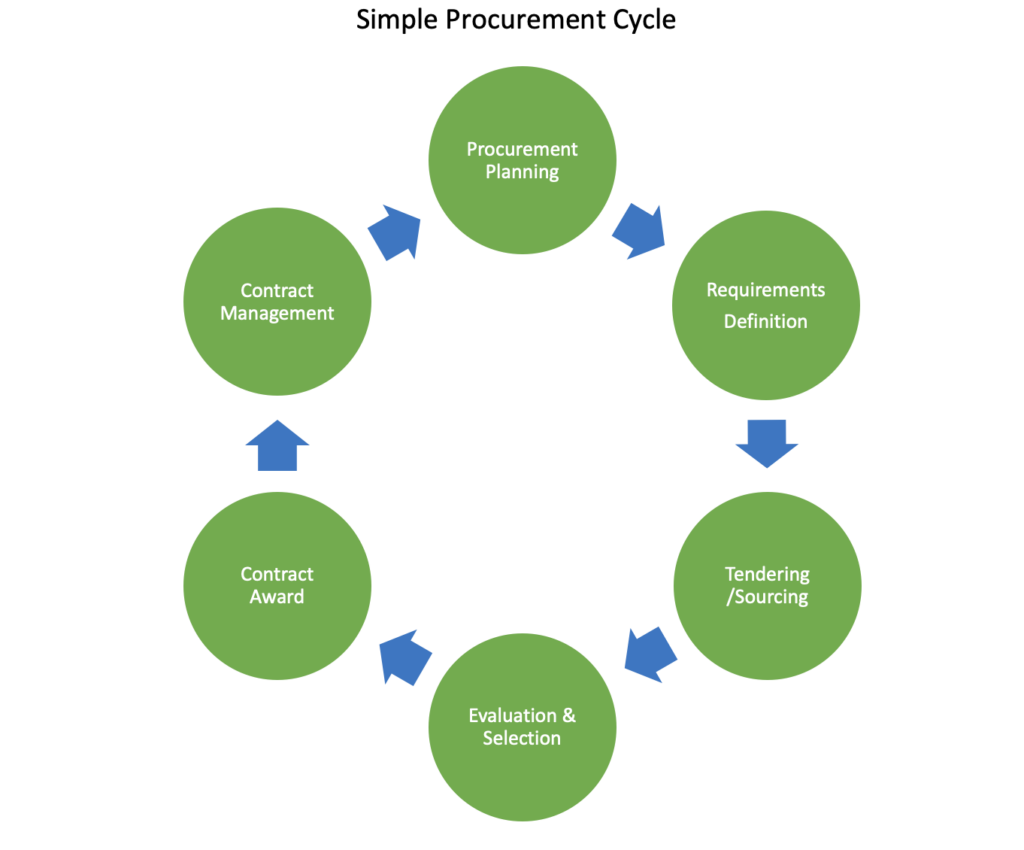 The basic six steps of a simple procurement cycle are:
1/ Procurement planning
This stage features:
Identifying the business need or problem to be solved
Identifying timing of requirement (when do we need it, how much, etc.)
Identifying the possible procurement route(s) (i.e. lease/buy etc)
Identifying potential suppliers
Alignment to procurement strategy
2/ Requirement definition
Identifying the specifications of what is required to further finesse the supplier pool and ensure that you place contracts for what is needed.
This phase will usually include
Identifying detailed specs (i.e Functional/Technical)
Particular Terms & Conditions required (i.e. warranty etc)
Identifying points of interest/information for potential suppliers
3/ Tendering or sourcing
This phase primarily deals with communicating requirements and receiving responses from suppliers. There may be technical reviews required (where suppliers have queries) or clarifications over commercial terms, so it should be seen as more than just a "transactional" phase.
Typical steps include:
Issue Request for quotes or tender documents to supplier pool
Receive response
4/ Evaluation and selection
Once the responses have been received, the buying organization will be required to sift through the responses, evaluate them, and down-select to a chosen supplier.
There is a wide range of tools and methods for evaluating responses, whether driven by cost, technical response, Lead time, or a combination.
5/ Contract award
Once you have selected a supplier, the next phase is to place a purchase order or contract; this will include:
Communication with the supplier
Award contract/ Place purchase order
6/ Contract management
Once the purchase order has been placed, the next phase is to manage the supplier to delivery. There may be further communications with the supplier (especially where problems emerge)
This phase will include:
Manage contract through to delivery & closure
This more complex model has some further additional steps than our initial model.
There is still a key requirement to focus on need, specification, and sourcing, but this cycle expands on the concept of contract management, focusing in more detail around delivery and key processes required.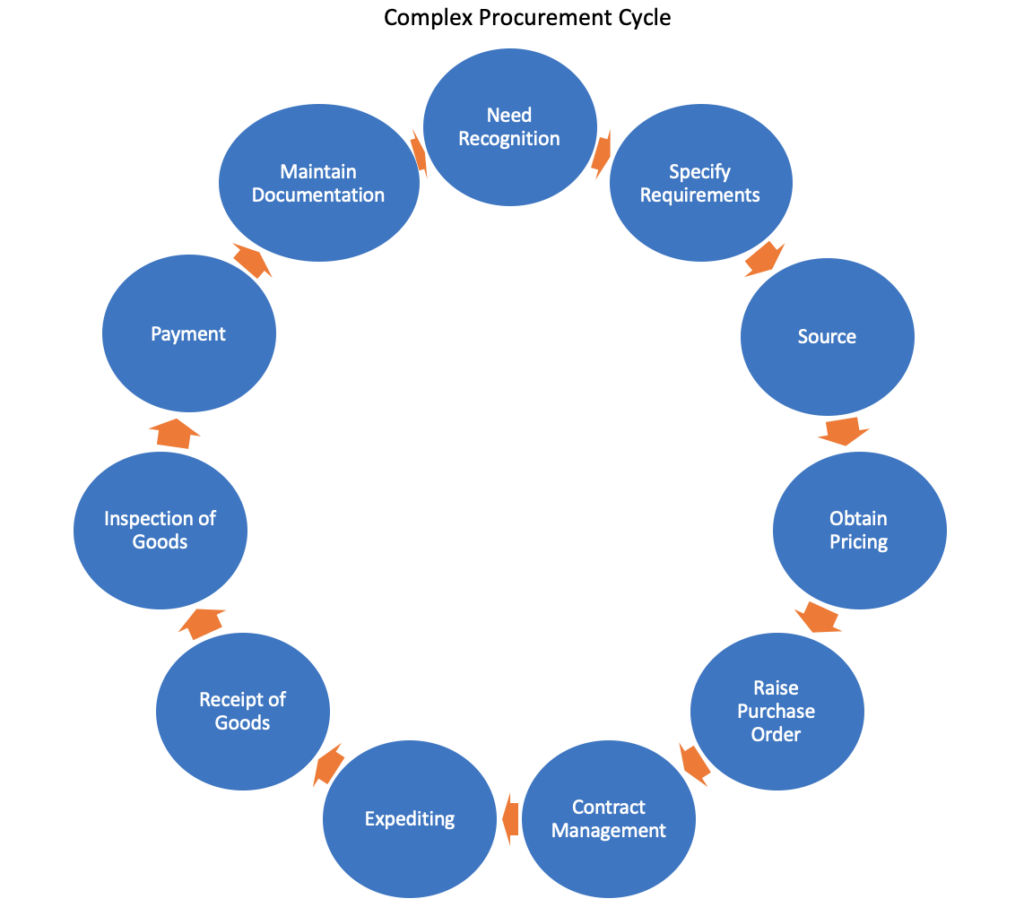 1/ Need recognition
Identifying requirement
Identifying schedule (when do we need it, how much, etc.)
Identifying the procurement route (i.e. lease/buy)
Identifying potential suppliers
Alignment to procurement strategy
2/ Specify requirement
Detailed requirements specification
3/ Source
Identify possible suppliers
Supplier evaluation
Create an approved supplier list
4/ Obtain price and terms
Request for Quotation / Tender
Communication
Receipt of offer
Downselection
5/ Raise purchase order
Raise Purchase Order / Contract
6/ Contract Management
Management of the purchase order/contract with the supplier
7/ Expediting
Control the progress of Manufacturing/Delivery
Buyer / Supplier communication
Manage and review delivery dates, updating appropriate IT systems
8/ Receipt of goods
Management of the receipt of materials/Services into the buying business
9/ Inspection of goods
Validation of goods/services received to ensure they meet the terms of the contract – typically focused on Quality Assurance (are the goods to the right standards – i.e., free from defects, supported by appropriate documentation, etc.).
10/ Payment
Once goods have been qualified, payment is issued to the supplier within the agreed terms of the contract
11/ Maintain documentation
Documentation supporting the buying activity is maintained and controlled (this invariably includes the initial requirements through to delivery documentation). This can either be physical or electronic documents.
You can read about the CIPS procurement and supply cycle in detail here.
The CIPS cycle expands further on the complex procurement cycle and is a highly detailed and descriptive model which includes:
Identification of policy and process requirements
Sustainability and Environment considerations
Consideration for innovation
Focus on strategy & method
Opportunity for gate reviews at the end of each step to ensure compliance
Highlights modern issues affecting the supply chain

Counterfeit Goods
Procurement technology
If you're looking at how to develop a robust, modern, and technically competent procurement cycle, I'd recommend that you investigate it.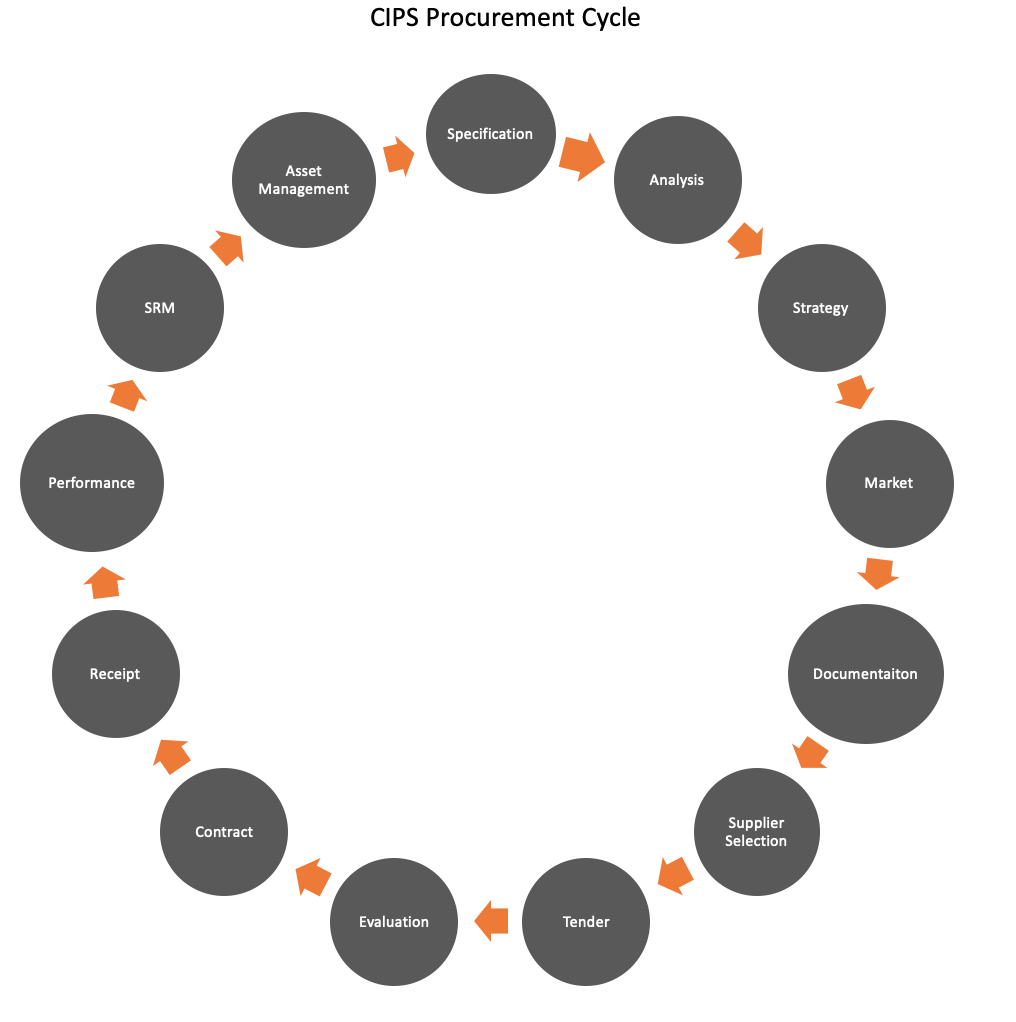 It has the following 13 steps.
1/ Specification
Identify and define business need
2/ Analysis
Review the market and identify opportunity
3/ Strategy
Develop plans on how to meet the business need
4/ Market
Identify stakeholder needs – review, adapt and align procurement strategy
5/ Documentation
6/ Supplier selection for tender participation
Conduct Request for Information, gain insight into suppliers
7/ Tender
Issue tender documents request for quotation
8/ Evaluation
Bid Evaluation against award criteria
Down select to preferred supplier
9/ Contract
Issue contract / Purchase Order
10/ Warehouse, Logistics, Receipt
Manage warehouse activities through to receipt of goods
11/ Performance
Measure contract performance against contract
12/ Supplier Relationship Management
Developing & sustaining supplier relationships in order to meet business goals
13/ Asset Management
Assess business requirements
Validate supplier agreements
Continuous improvement
The public procurement cycle has much in common with the examples we've discussed above.
Public procurement is the purchasing of materials, services with public funds, which in turn help contribute to the delivery of public services and or goods.
There is usually a significant focus on
Value for money
Meeting requirements
Transparency of process
Compliancy to process
It's very common for public procurement to operate via a Tender > Bid > Down Select > Negotiation process, which is often facilitated by online tender management software.
The below offers a representation of a standard public procurement model.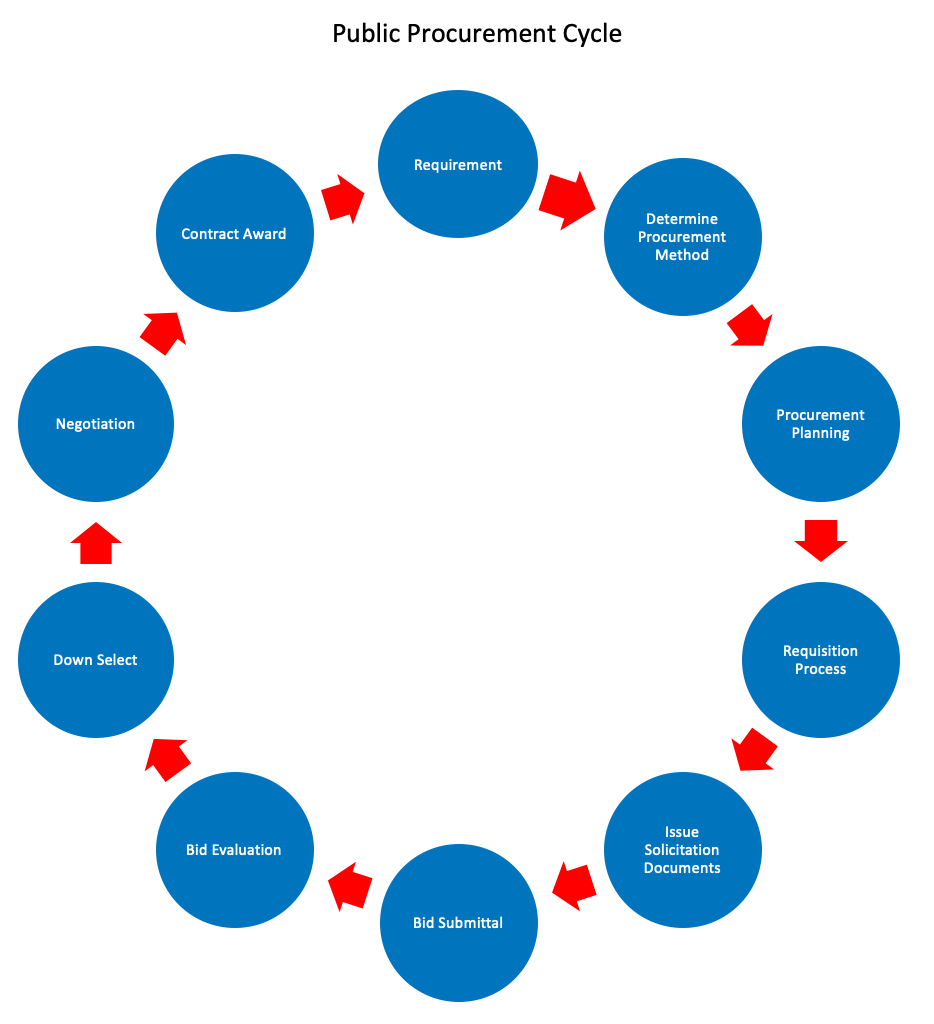 1. Identify requirement
Identification of business need
2. Determine appropriate method of procurement
Assess methods to be used e.g.

Make/buy
Buy / Lease
Sole source / multi-source
Batch buy/timed delivery.
3. Procurement planning
Finalize method of procurement
Identifying potential suppliers
Alignment to procurement strategy
4. Requisition process
Document requirements
Formalize demand (i.e., Load requirements onto purchase system)
5. Prepare and issue Solicitation documents
Document Request for information, Request for Quotation, Tender documents
7. Bid submittal
Receive bids from suppliers
8. Bid evaluation
Evaluate supplier responses
9. Down selection
Selection of preferred bidder(s).
10. Negotiation
Negotiate with preferred bidder(s)
11. Contract Award
Issue Contract / Purchase Order
It's not enough to merely have a procurement cycle that represents your organization's procurement steps.
The nature of the model that it breaks your process down into steps provides you with a tool that can be used to:
Benchmark specific parts of your process with others
Identify weaknesses in the chain of processes
Identify capability gaps
Highlight areas of risk
Understanding your procurement cycle in depth can provide you with a start point to key continuous improvement activities that can improve performance.
There are several key benefits of using this model:
It promotes a standard methodology
Is adaptable to the needs of business
Incorporates best practice into a logical process flow
Each "step" may have a subset of processes
Can be promoted within the supply base to provide a transparent view of the acquisition process (especially in public procurement)
Maps a start point for continuous improvement
Common issues include:
While there are common models, no one size fits all, and each business is likely to need to adapt
While there are indicative steps, the model does not describe complexity or entry-exit criteria for each step
The procurement cycle is not a magic bullet, it is a methodology, and you will still need to put the work in to get value from it – it structures the process it does not do it for you!
It can be overly simplistic
Having a structure de-risks the task, but it doesn't identify risks / potential issues within the process, you will still need to run appropriate risk identification and mitigation activities
It doesn't identify attributes that drive performance, merely the steps required
Summary
Clearly, procurement is a critical business enabler that firms require to be effective in order to meet goals.
The Procurement cycle offers a way of mapping out the key steps in the procurement process.
It is not a one size fits all model and can be adapted to cater to specific changes within each business that utilizes it.
What's your experience with the procurement cycle? Have you looked to utilize it within your business? Perhaps you've looked to adapt it to specific business needs? Perhaps you have experience with the public procurement cycle?
As ever, we'd love feedback; you can reach us on Twitter or via the comments section below.
This article is part of our Supply Chain Guide.