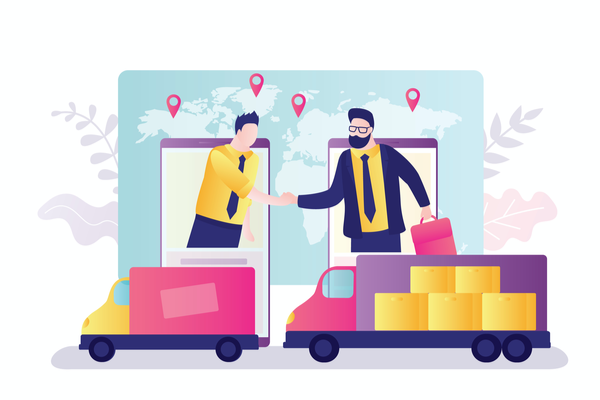 A world-class supply chain cannot perform effectively without effective suppliers. Who you allow into your supply chain ultimately determines its performance.
Supplier evaluation can function as a gatekeeper, providing a qualitative and quantitative method of assessing and approving suppliers prior to use.
In today's article, we'll be reviewing supplier evaluation; we'll be covering:
Supplier evaluation is a method of reviewing potential suppliers through a process of assessment and approvals to determine their suitability for use.
Almost all businesses rely on their supply chains to achieve corporate goals. Evaluating suppliers before use is key to ensuring that they are effective, robust, and fit for purpose. The results of which provide supply-chain effectiveness while reducing risk.
While supplier evaluation is primarily utilized to assess suppliers before being placed on an approved suppliers list, it can also be used with existing suppliers to monitor performance.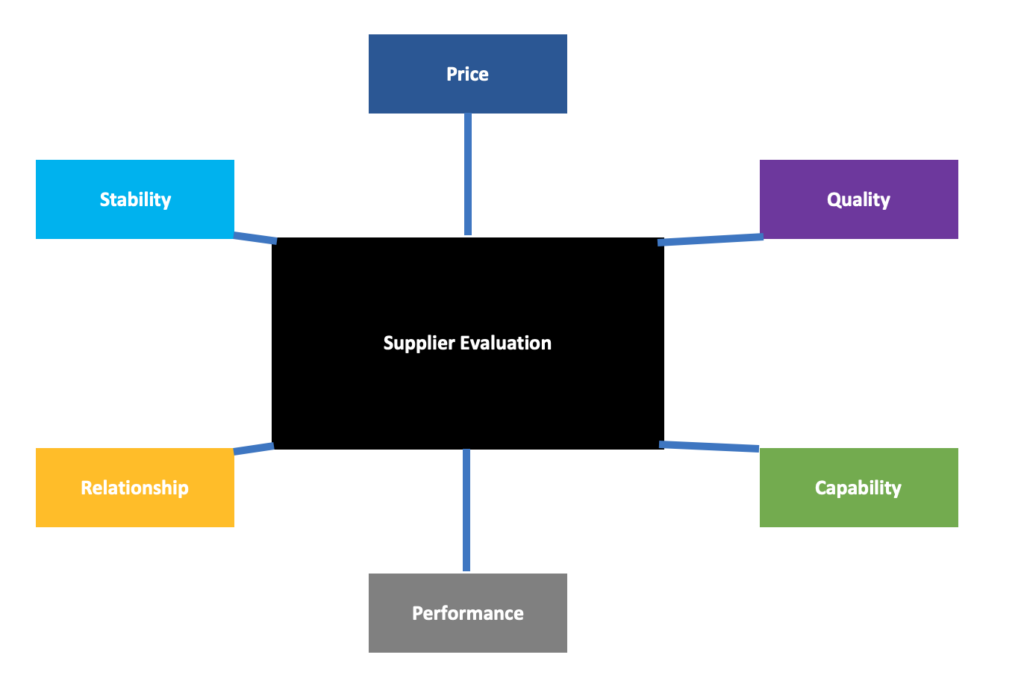 While there is a preference for quantitative assessment (as it aides ranking and comparison with other suppliers), supplier evaluation can utilize both quantitative and qualitative methods.
As a core Supply Chain activity, the evaluation of suppliers has several key characteristics. These include:
It occurs before the placement of contract/order.
Evaluation is typically carried out via one of the following:

A site visit
A Questionnaire
An Interview.

Evaluation usually appraises various aspects regarding the supplier, including:

Cost
Quality,
Delivery performance,
Service levels,
Capacity
Ability to collaborate
The ability to react to change
Evaluation requires gathering data
Evaluation requires a scoring method
Evaluation is assessed carefully to ensure critical business drivers are considered.
The use of weighting criteria, allowing suppliers to be compared equally.
While every business will have its own process, most are based on a common series of steps which include:
Determine the need for external suppliers
Determine the methodology to evaluate suppliers 
Determine criteria (i.e., They must have. ABC)
Determine questions
Identify possible suppliers
Shortlist suppliers based on initial criteria
Obtain information/data from suppliers
Evaluate suppliers using data obtained
Decide on the suitability of supplier for use based on criteria.
Where suitable for use, place supplier on the approved supplier list
Let's now look at the types of used questions.
Firstly, evaluations are typically structured into Sections with varying quantities of questions around each area.
For example, we may want to question the supplier around their Quality Function, so we'll have a section on Quality with several questions pertaining to it (i.e., standards achieved, size of dept, etc.)
How many sections or categories being appraised may vary depending on the requirement; most evaluations include some general inquiries about the company (size, turnover, etc.), Quality, etc.
It's also common for evaluations to look at the capabilities around the product or service that is likely to be procured, i.e., processes, controls over materials, capacity, etc.
Here are some examples of Supplier Evaluation Questions:
1/ General Information about the organization
What is no. of current employees?
How old is the organization (i.e., year of incorporation)?
What is the annual turnover in $?
What is the experience of this supplier in the likely products that will be ordered?
What is the current staff turnover rate?
What Cost, Quality, Delivery Metrics are established, and are we able to see them?
How will this supplier report performance metrics?
Are current/indicative performance levels acceptable?
What is the current financial position of the company (i.e. view of balance sheet/P&L)?
What is the current credit score of the organization?
2/ Quality
Name & Position of the person responsible for Quality
Does the supplier hold ISO9001?
Does the supplier hold ISO14001?
Can the supplier provide PPAP Documentation?
Will a QMS audit be permitted, and at what frequency?
Can they provide % right first-time delivery data for the last six months?
Does the supplier have processes in place for the management of subcontract operations?
What continuous improvement activities are underway
Is a customer complaints/CAPA process established?
What are the management processes for Health Safety & Environment?
3/ Manufacturing/Production
What is the % of bought-in parts to satisfy potential orders (i.e., made internally/contracted out)
Does the supplier have adequate machinery to support capacity requirements?
What inventory levels does the organization hold?
Does the supplier utilize a maintenance schedule on its production equipment?
Does the supplier have documented processes to support manufacturing activities carried out in their facility?
Are testing/trials carried out on-site?
Does the supplier carry out heat treatment in their facility?
Does the supplier have adequate calibration facilities?
What is the size of the facility in sq ft?
What is the current capacity in required units per month?
4/ Customer Services
Does the supplier have a dedicated customer services representative allocated for our use?
How many staff does the supplier employ to handle customer interactions?
5/ Cost Management
What is the current cost per item
What are the current batch break quantities
What reductions are offered for larger purchases?
What is the current Lead-time?
How often are prices reviewed?
What is the typical warranty period?
What is the typical quote validity period?
Once again, these are only indicative. You'll need to base your questions around your own requirements.
A supplier evaluation rating is a rating or score attributed to a supplier following an evaluation.
Ratings are often subdivided by key characteristics.
An example rating can be seen below: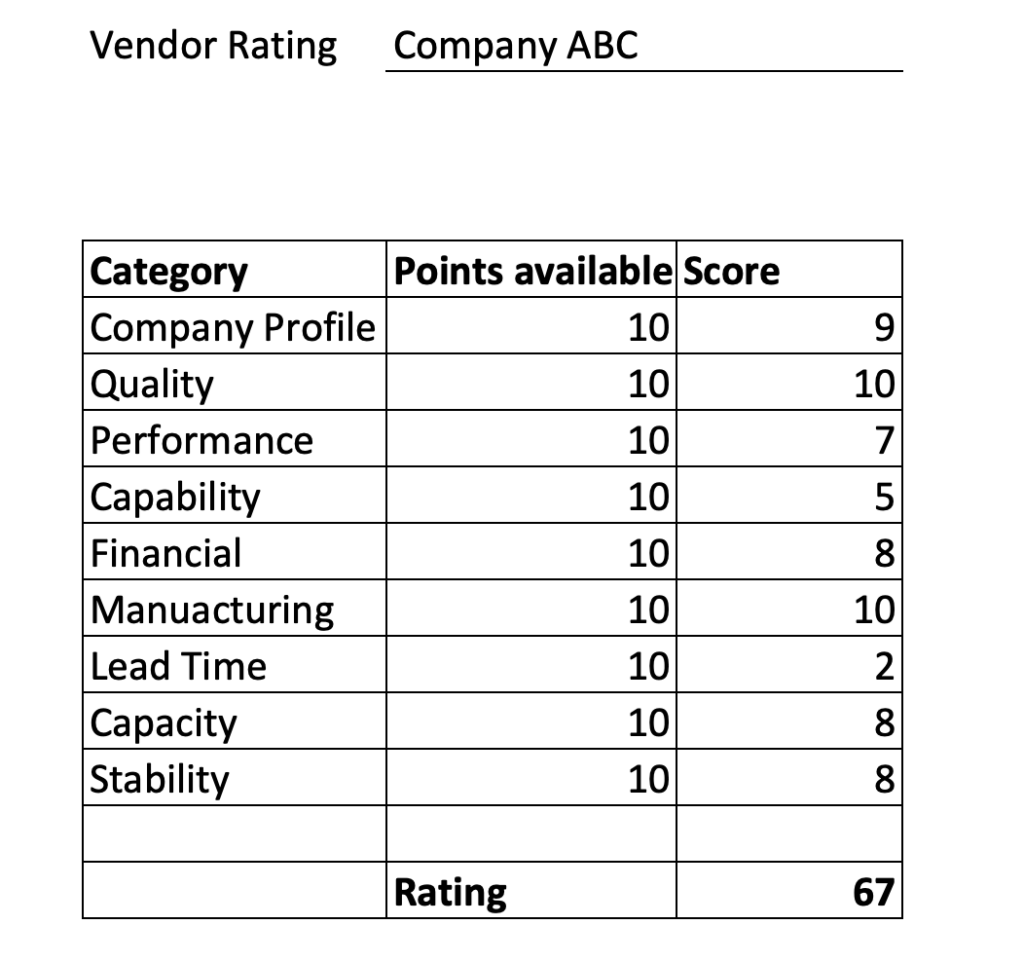 Standard evaluation methods mean that suppliers can then be grouped and assessed using tools similar to the below.

Depending on the Rating given, procurement can then take appropriate steps with the supplier.
Weighting is a tool that can assist supplier evaluation by using predetermined importance as a key criterion to evaluate groups of suppliers against each other.
Weighting requires several steps:
Determine evaluation criteria
Determine the priority of each criteria
Determine the weight to be given
Evaluate suppliers
Weight the results based on the priorities established
In practice, this means:
We determine what's important to a business, i.e., Cost.
We rate the supplier using our assessment process (i.e., Site visit)
We score the supplier.
We apply a 'weight' to the score based on important criteria.
We produce a rating for the supplier.
The table shows below how the evaluation would be completed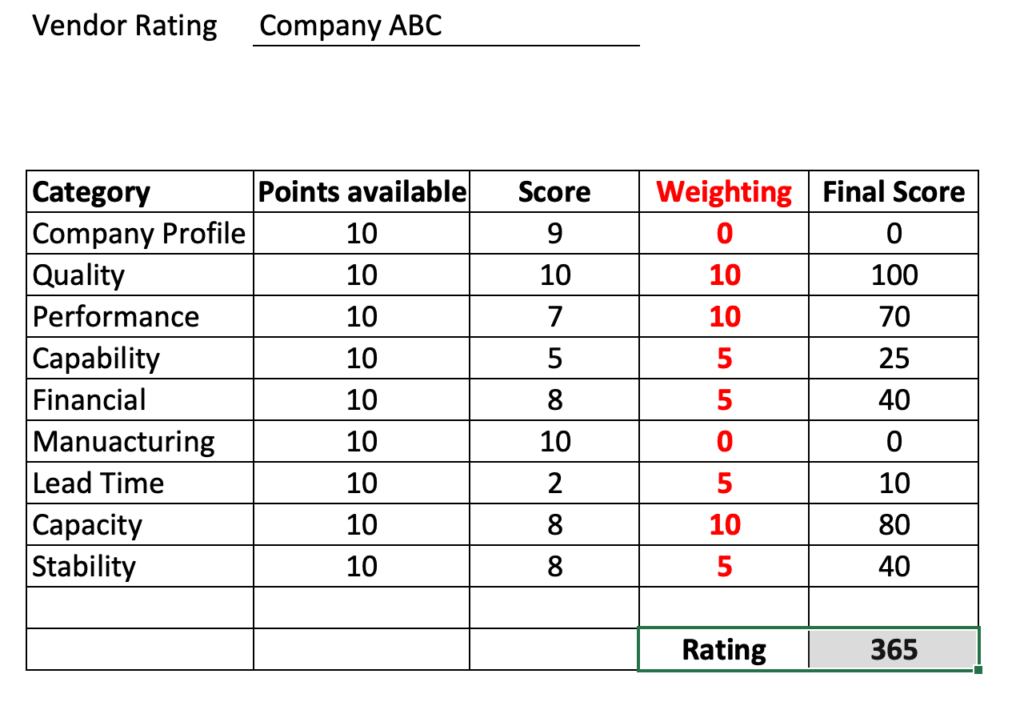 You can see in this example how Quality has been deemed important and carries a weighting of 10. We apply this weighting to the score – in this case, that means a score of 10 X 10 = 100.
There are a number of supplier evaluation models which are commonly utilized; these include:
Model
Notes
10 C Model of Supplier Evaluation:
An evaluation model that examines:Competency
Capacity
Commitment to Quality
Consistency of performance
Cost
Cash & Finance
Communication
Control of process
Corporate responsibility
Culture
Supplier Evaluation Framework (SEF) (Tan, Lyman, and Wisner)
An evaluation model based onProduct and Delivery Assessment
Capacity Assessment 
Information Assessment
Cost/Ratio Model
Categorical Model
Weighted Point model 
There are various key benefits of utilizing supplier evaluation – these include:
Ensures only capable and competent suppliers are added to an organizations supply chain
A standard process that is utilized for all suppliers
Focus on critical criteria of a supplier that is important to the buying organization
Evaluation methods enable specific needs of the business to be addressed, i.e., cost.
Helps drive performance by weeding out unsuitable suppliers.
Helps reduce risk
Common issues with supplier evaluation include:
Issues arise when the process is not adhered to across all suppliers (i.e., bypassed where urgency is required only to find that the supplier is ineffective).
The process can be inefficient and take time to complete, which may not meet business priorities.
Different models & methods have varying strengths/weaknesses; a business needs to find the right one that meets its requirements.
Scoring systems can be complex and difficult to understand.
It can result in clashes between functions (where one side wants to utilize the supplier, but the scoring prevents use.).
Complex weighting criteria put forward don't meet the needs of the business.
Business undertaking evaluation fails to focus on risk, and therefore, benefits of the process are reduced.
Summary
Without supplier evaluation and no controls on adding suppliers, a business would be faced with increased risk and potential performance issues.
Supplier evaluation is, therefore, a crucial supply chain process.
Unfortunately, it's not instant and does take work both pre & post supplier identification if it's to be effective.
Careful design of the process is required to ensure it meets the needs of the business.
When effective, it can help reduce risk and develop a finely tuned and appropriate pool of suppliers.
Has your business run effective supplier evaluation campaigns? What lessons did you learn? As ever, we'd love to hear from you; you can reach us on Twitter (https://www.twitter.com/sanbustrain) or use the comments section below to tell us your story.
This article is part of our Supply Chain Guide.