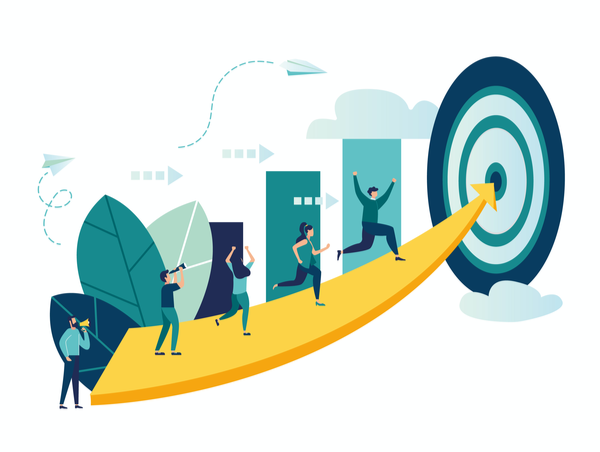 In this article, we'll be looking at the human resources career path, what to expect if you're just starting out and what your options are as you gain experience.
The human resources career path can be a rewarding one; it offers a range of roles with diverse responsibilities, it has some excellent professional development opportunities through organizations like CIPD & SHRM, and can help launch a successful management/executive career. The skills you can develop in HR are much in demand, so an HR background can facilitate career growth in other areas, including consulting.
In this article, we'll be covering:
The typical Human resource path usually follows a series of steps starting with entry-level roles through to management and culminating in executive ones. A typical path includes:
HR Administrator
This is the first rung on the ladder. This role offers the opportunity to gain knowledge through obtaining firsthand experience (usually across various roles within the function), developing an understanding of HR's purpose within an organization. Experience and qualifications in the function may be limited.
HR Officer/Co-ordinator
A step up from the Administrator role, an HR officer is responsible for various functions across the human resources landscape- from recruitment, training, employee engagement. HR Officers often have experience within the discipline, often backed up by qualifications (often through ongoing training such as CIPD).
HR Manager
A senior role, which usually offers elements of governance of the function. Incumbents have the expertise of managing a team while having excellent knowledge of the role of HR within an organization. At a managerial level, you are likely to support HR strategy execution and advise senior managers on HR matters ensuring organizational goals are met. Managers may be of various grades (junior manager/senior manager) and have varying levels of responsibility. HR managers will have a breadth of experience and generally a high level of functional qualifications.
HR Director
A Human Resources Director has extensive experience and qualifications within the HR domain; they have responsibility for the company's people strategy. This includes Policy and strategy. HR Directors often have responsibility across multiple sites and large numbers of employees, ensuring that strategy is being executed. HR Directors are usually accountable for ensuring compliance concerning appropriate legislation.
HR Vice President
Often seen in large complex multi-national corporations, HR VP's are primarily responsible for business and financial strategy and how HR policies need to be driven in order to meet them. HR VP's work in close alignment with other senior executives to establish business plans, goals.
Aside from the traditional path, it's worth pointing out another role:
HR Consultant
HR Consultants are specialists who are hired from outside of the organization (either as independent contractors or via a specialist consultancy company). They are often responsible for specific packages of work, for example, change management, issue resolution, functional consultancy, and support to management. HR consultants can operate at various levels, which often includes managerial and executive. They often have moderate to high levels of experience and qualifications.
While the above suggests a level of rudimentary progression, there can be various entry points into HR depending on qualification and experience.
While HR professionals with relatively little experience or training would expect to start at the lower rung within the organization in an HR Administrator role, relevant experience and/or qualifications may drive commencement in a more senior position.
Aside from the traditional career path, roles tend to be segmented into two further types, specialists and generalists.
Human Resources Generalists
Their primary purpose is to ensure that the organization achieves its human resource goals helping to formulating and delivering personnel strategies, carrying out functions across the HR Lifecycle from Recruitment, Administration, Payroll, Training & Development.
Human Resources Specialists
Specialists – Specialists will usually focus on a particular area of Human Resources; they often have extensive experience (& Qualifications in a particular function (i.e., Employment Law).
There can be several drivers behind generalist or specialist positions:
The size of the organization

Small organizations will often have a limited HR function and will require generalists who can cover all the HR basis
Large organizations will often have a larger HR department (sometimes split across multiple sites) and will have more complex needs requiring specialists who can focus on particular areas.

The experience of the individual – people just joining the HR function will often start as a generalist to gain experience; those with more years under their belt will often develop their core competencies are more likely to have an area of specialism.
You can check out our article on HR functions to see the breadth of activities with Human Resources; as you can see, there are many diverse avenues for specialism within the function.
One way is to view the HR career path is by looking at the relationship between Qualification & Experience: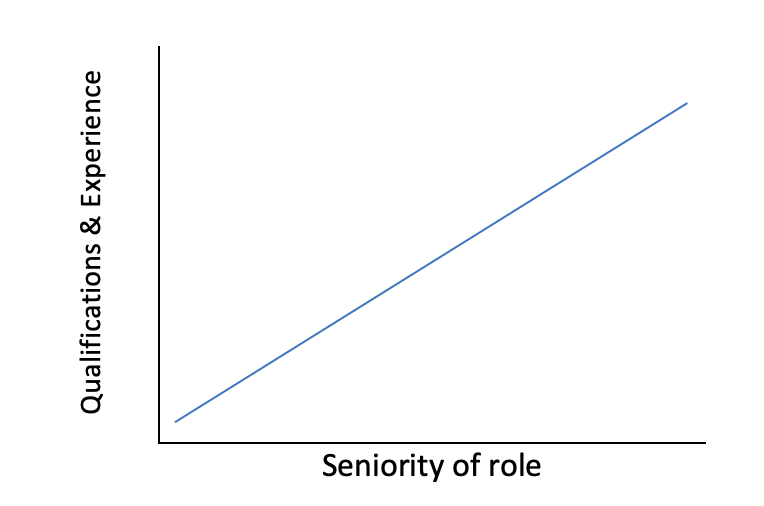 You can argue that this is universal within any function; the more experience and qualifications you have, the increased likelihood you have at advancing to a senior role. (assuming you have access to opportunities).
Having looked at a relatively simple HR Career path, let's now look at a more complex one that shows the relationship between areas of specialism and common organizational hierarchy. This is representative of most large corporate bodies with a dispersed HR team across multiple sites.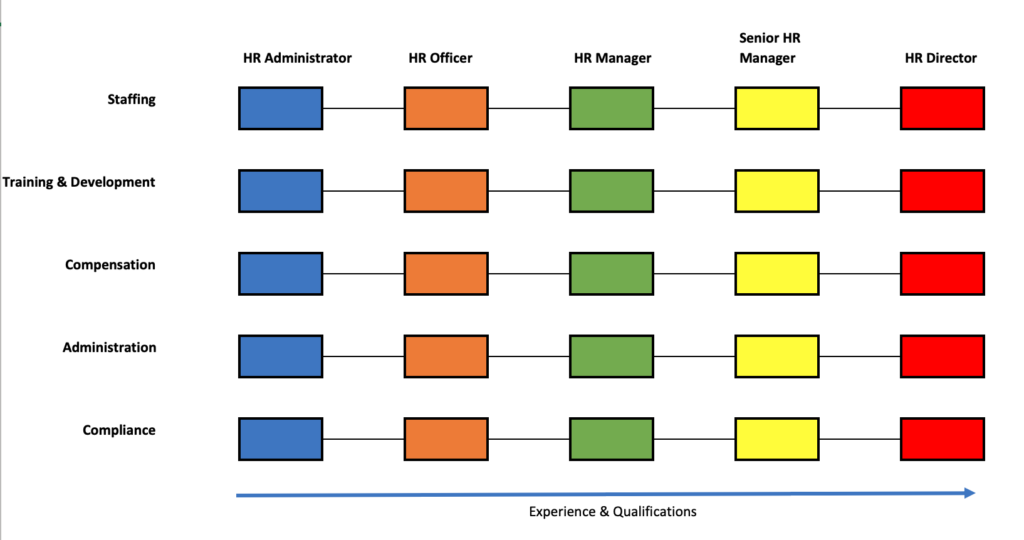 Here you can see how functions can develop roles into more senior positions.
You could view it from a HR Generalist position as this:

However, in most cases, functional roles only persist for so long before there's a need to become more generalist (gaining more experience about the function you're managing). So a more typical HR Career path to HR Manager level might resemble the following: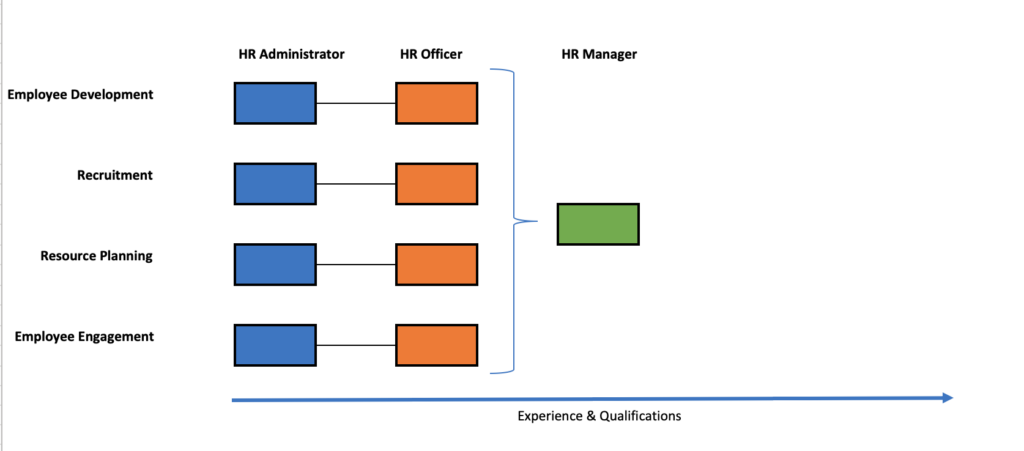 In the above we can see a typical Staffing Department with a HR Function. There are administrators and officers for each work stream, but one central manager is responsible across all.
You can flow this along the hierarchy when looking at Director level roles. What typically happens is as follows: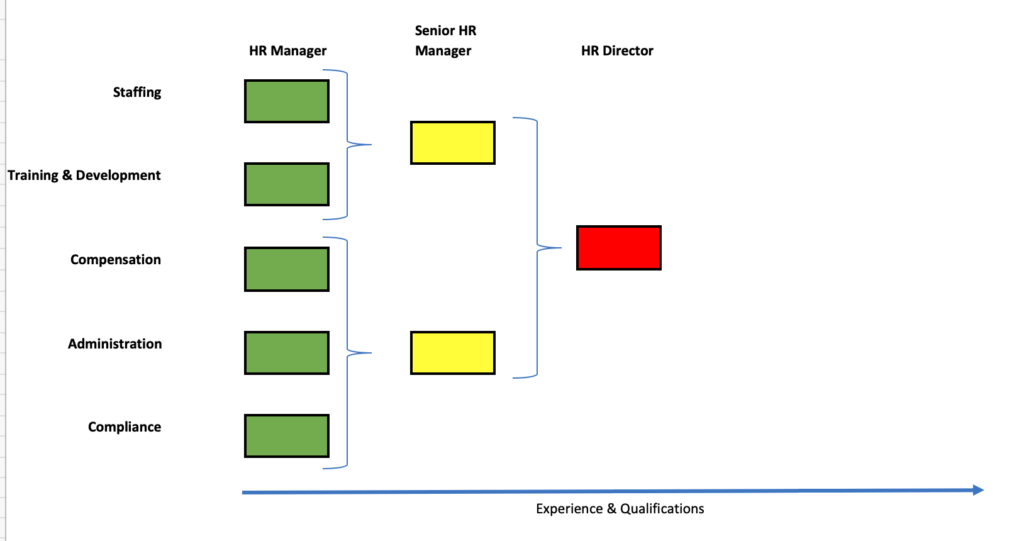 In the above diagram, you can see levels of functional management, responsible for typical HR functions, they report into a smaller group of Senior managers who report into one HR Director.
While it's certainly possible for multiple "functional" directors within HR (who often report to a VP HR), the more common approach is for a typical hierarchy. One Director a group of senior managers, a larger group of junior managers and then a pool of administrators and officers.
Hopefully, both the above diagrams and the simple career path we described above place some context around the opportunities available within the Human Resources function.
While it should be obvious, many factors determine access to roles. Qualifications and/or experience will not necessarily dictate that you will culminate your career as HR Director!
As with many industries, Human Resources has undergone significant changes over recent years, and gone are the days when HR is seen as some back-office administrative role that adds little value.
These days there are a number of pressing issues that drive organizations to recruit and develop their HR staff; these include:
People to manage the complex policies/processes that aim to retain the best people for their workforce
Management and compliance of complex legislation
The need to establish employee-related programs such as employee engagement
Development of employee welfare
Developing policies and strategies that help enable the workforce to achieve complex company goals.
So given its importance, working within Human Resources can offer a range of benefits such as:
Competitive Salary
Opportunity for career advancement
Diversity in tasks
Direct engagement with your customer
Ability to influence the companies performance
For more information about how HR has evolved, check out this excellent article.
The table below shows common HR roles together with expectations around qualification & experience couples with Salary information.
Role
Qualifications
Experience
HR Administrator
* This can vary HUGELY; most expect some degree level candidates however as an entry-level position it's quite possible to start with only lower-level qualifications
* These individuals are likely to not have professional certification (or have just started).
0-1 Years, Usually minimal

but

entry-level candidates usually demonstrate some level of people skills
HR Officer
* Graduate,
* Professional certification at least to foundation level
3 years +, Moderate experience, has usually developed expertise in particular area
HR Manager
* Degree qualified,
* Professional certification to at least Associate level+,
* Management training and/or Certification
5 years+, at least 1-2 years experience of managing/supervising
HR Senior Manager
* Degree qualified,
* Professional Certification to Associate/Advanced level,
* Management certification,
* Likely to possess other professional qualifications (i.e. in change/project management).
7-10 years+ – Extensive experience of function & managing people, Experience of how HR is applied in business, Some experience of business-related activities, i.e. projects, change, etc
HR Director 
* Masters Degree,
* High level professional certification,
*Management training,
* In-depth awareness of other functions possibly delivered via training (i.e. management strategy)
10-15 Years+ Extensive senior management experience in directing complex HR functions to meet business goals such as organizational development, developing people, organizational capability, strategy.
So if you've started your career in HR, perhaps as an HR assistant without a particular area of specialism, how do you advance your career?
Gain experience –the number one driver behind advancement is experience. Perhaps you could target a particular niche or perhaps develop competency in particular processes. Whatever the route, the more experience you can gain, the greater the likelihood for advancement.
Gain Qualifications

The second most important driver is to obtain suitable training and certification (i.e., CIPD)

Learn about the business – It's not just about functional competency but how you apply it. Learn about the business, its goals, its processes, its issues. How can HR be applied to help it be successful? Where can your strengths help?
Be proactive – Promotion rarely just lands on your plate, consider:

Networking – Develop your network of stakeholders; this may lead to increased responsibilities.
Be open to opportunities – This might be in the form of participating in projects or tasks that might drive experience and/or enable you to show off your talents.

Choose the right company – As we described earlier in the article, some organizations have small HR teams where you might be undertaking most tasks for a small firm. This may not give you a great opportunity for promotion. When looking for advancement, you may need to look outside your current organization.
Of course, not everyone who progresses their career in HR started within it. Many come from outside the function.
As we've described, HR comes with many benefits, so, unsurprisingly, many people choose to move into an HR career from another pre-existing one.
For many, it's about the skills you bring with you from previous roles and about how you can apply them to Human Resources.
One thing you'll need to consider is that it may necessitate starting from ground zero. This is especially true if you lack experience and/or qualifications; you'll probably start at the bottom (or close to) and take the salary hit in the process.
For more info on transitioning into HR, check out https://www.cipd.co.uk/careers/career-guidance/career-transitions#gref, which has some great case studies.
There can be many reasons why people leave HR (check out this article on the subject)
One of the first things to consider, if you're leaving HR, is how transferable your skills are into other business functions.
The good news is that many HR skills are transferable. These include:
Influencing
Managing change
Communication skills
Problem-solving
Analytical skills
So where can you take these skills? Well, roles that need them! These include:
Teaching;
Management consultancy;
Coaching
Welfare
Business Development
Here's a couple of resources on the subject
Summary
HR is no different from many other functions; advancement can often depend on timing; when opportunities become available. This can be driven by factors such as experience, qualifications through to the size of the organization. And of course, career paths can vary from one company to another. And remember, just because you have experience and qualifications is no guarantee you'll get the role!
However, notwithstanding these challenges, those looking for a structured career path would do well to consider a role within Human Resources.
Perhaps you work within the HR sphere? What experience and tips do you have in developing your career? We'd love to hear from you!
You can reach us via the comments below or on Twitter (https://www.twitter.com/sanbustrain).
This article is part of our Human Resources Guide.