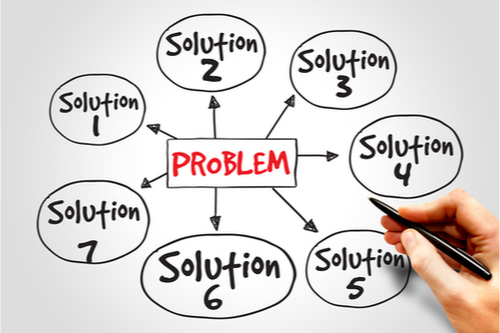 Here at Sanzubusinesstraining we think that problem solving is perhaps the most important skill for you to master.
Why? Mainly because problems occur every day, and without the right approach, you may find it difficult to resolve these issues and return things to a stable situation.
Problems drive cost and delay; businesses need to work hard to keep on top of them, which means the right problem-solving methods, tools techniques, and templates.
We've divided this problem-solving guide into a number of categories. Click on the category below to visit that section (or simply scroll down to it below).
We'll be updating this page regularly as we expand our problem-solving content so make sure you bookmark this page and check back regularly. (you can also follow along on twitter).
Problem-solving can be defined as the process of identifying a problem, prioritizing it, analyzing information regarding it, determining the cause of it, and deploying a solution to resolve it.
Problem-solving is a key skill. Given that it's surprising to see how many businesses go about it with an ad-hoc approach. Without a doubt, a systematic approach to problem-solving brings huge benefits and helps resolve them quicker and more accurately.
Check out our content below to find out more regarding the fundamental principles of problem-solving.
As we indicated, we can all benefit from developing good Problem Solving skills.
We need to remember that all problems are different, and each will require a mix of skills to help resolve them. These skills include:
Analysis
Collaboration
Decision Making
Active listening
Communication
Risk Management
There are a wide variety of techniques that you can utilize to assist you with problem-solving.
These articles below will provide an understanding of what problem-solving techniques can be utilized to address the problem you are facing.
Having an appropriate tool or template, ready-made, that you can draw upon and utilize in your problem-solving activities can save you significant time and effort.
Below are some useful problem-solving templates that we've created.
Summary
Hope you found this useful, we'll be updating this section regularly, so please do check back often and if you're looking for some specific help, please send us a message on twitter or utilize the comments section below.